Missing a connecting flight can throw your entire travel itinerary off balance. Whether it's due to a previous flight's delay, cancellation, or overbooking, you could be left stranded and stressed. However, under EC Regulation 261/2004, passengers who miss a connecting flight due to no fault of their own are eligible for compensation from the airline. Even if airlines cite 'mechanical failure' as an excuse, the regulation states that minor technical faults aren't considered 'extraordinary circumstances'. Depending on your flight route and whether it's within or outside the EU, you could claim between 250€ and 600€. Keep reading to learn about the best companies that can help you get the compensation you deserve.
Our Top 3 Missed Connecting Flight Compensation Companies of 2023
Our Picks
Reviews
Refundmore.com has more than 25 legal experts on their team who specialize in European air passenger law, working directly with the airline to help you get compensation for delayed, cancelled, or overbooked flights, as well as lost luggage, missed connections, and additional expenses. Their website is easy to use, with only three steps from start to finish. First, you enter your information to see if you are entitled to compensation, open a case if you are, then wait for your payment.
Refundmore.com charges a commission for each case they win, with a maximum fee of 30 percent, depending on the case's complexity. If your case goes to trial, they will charge an additional 15 percent fee. You do not have to pay if you do not win your claim against the airline, so it's in Refundmore.com best interest to deliver the best service possible.
Refundmore.com has more with 2,300 reviews on TrustPilot with an average rating of 4.8/5 stars. Customers report being happy with the support they received. They shared they avoided all the hassle by partnering with Refundmore.com while winning their case.
Claim your compensation with RefundMore here
Other Companies Taken Into Consideration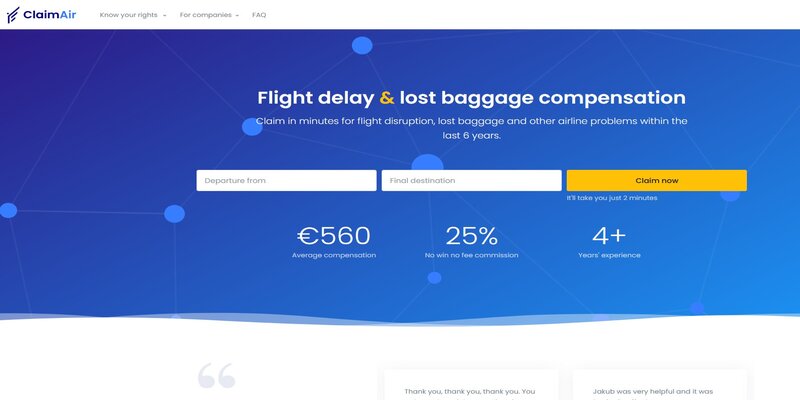 Ranks #11 out of 34 flight compensation companies
Claimair.com is a flight compensation company based in Prague, Czech Republic. They use global legal frameworks signed by more than 100 countries to guide their work. As long as your delay occurred in the EU – even if it's not an EU-based airline – you are eligible for compensation.
Filling out their form takes just two minutes. Simply enter your information, including personal details and flight information. Claimair.com will contact you if your case is accepted and begin negotiations with the airline on your behalf. If needed, they will take your case to court, and you only pay if they win.
Claimair.com takes a 25 percent commission on all cases. Most customers receive their compensation within 13 weeks, though some can take longer depending on the complexity of your case. Claimair.com keeps you informed as updates are available, and with a 90% success rate, the odds are in your favor to receive a settlement.
Claimair.com has a 4.2 rating on TrustPilot, with more than 144 customers raving about the great service. They were pleased with the high level of customer service and quick resolution, helping get them the money they are entitled to.
Claim your compensation with ClaimAir here
or Read our full ClaimAir review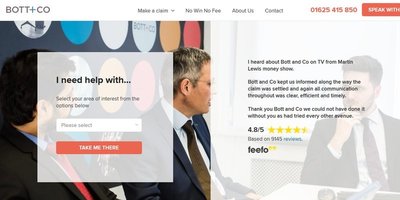 Ranks #12 out of 34 flight compensation companies
BottOnline is a compensation company that fights to earn many different types of compensation for their customers. These compensations can come as a result of cycling accident claims, car accident claims, holiday claims, bounty data breach claims, and consumer claims, in addition to their flight compensation claim section. They work fast and hard for their customers. They boast that 50% of their claims are completed within 30 days, and if they have not heard from airline companies within 30 days, they issue court proceedings on behalf of their customers. Their website does not offer a live chat option, but it is very easy to navigate, provides a wealth of information for the customer, and is mobile friendly.
BottOnline provides a flat rate chart, so their customers know just how much they will be paying for BottOnline services which end up being 25% commission plus VAT plus an additional administration fee of 23 Euros. They have average reviews on TrustPilot but are rated 4.7 out of 5 stars on Feefo based on over 8000 reviews. In addition, BottOnline can fight claims on behalf of their customers on any flight that either landed in or departed from an airport that was located within the EU. Overall, although they only speak English which limits the number of customers they can help, they seem like a strong, reputable company that fights hard for their customers and provides a wealth of speedy services.
Claim your compensation with BottOnline here
or Read our full BottOnline review
Pick the
Best Missed Connecting Flight Compensation Company

and Get up to 600€!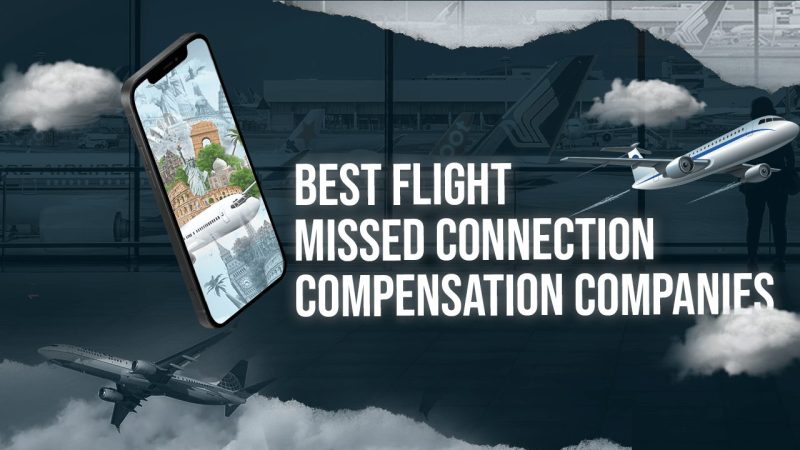 What We Looked in the Companies
Finding the best flight missed connection compensation company is a tedious job due to the plethora of choices! But our team of experts has carefully examined various factors such as cost, success rate, languages spoken, customer reviews, and more to select what's best for you.
First, the customer ratings and reviews helped us determine the company's reputation in the market, which later on was confirmed by the longevity of the business. Another critical factor that we've taken into account is the language barrier and the company's reach- as some companies offer services to people of a particular region only.
Last, we have considered the compensation time to decide the top 10 flight missed connection compensation companies. An average compensation time for each company we included in our list is 8-12 weeks.
Summary
| Company | Country | Average Claim | Success Fee | Time frame | |
| --- | --- | --- | --- | --- | --- |
| | | 322€ | 75€ – 180€ | 6 – 12 weeks | |
| | | 318€ | 88€ – 210€ | 6 – 14 weeks | |
| | | 300€ | 88€ – 210€ | 8 – 16 weeks | |
| | | 312€ | 73€ – 174€ | 10 – 16 weeks | |
| | | 314€ | 75€ – 180€ | 8 – 16 weeks | |
| | | 308€ | 63€ – 150€ | 8 – 16 weeks | |
| | | 310€ | 75€ – 180€ | 8 – 14 weeks | |
| | | 303€ | 75€ – 180€ | 10 – 12 weeks | |
| | | 301€ | 63€ – 150€ | 8 – 12 weeks | |
| | | 298€ | 75€ – 180€ | 8 – 16 weeks | |
Frequently Asked Questions
What is the best flight missed connection compensation company?
When it comes to the best flight missed connection compensation company, you need to look into plenty of factors, accounting for the successful reimbursement of a missed flight. These factors include the success rate, customer reviews, and quality of the service of a company.
When can you get flight missed connection compensation?
In case you missed a connecting flight due to the previous flight's delay, flight cancellation, overbooking, or any other circumstance where the passenger holds no fault. You must submit a claim, and under EU regulation 261, you're entitled to compensation from €250 to €600 depending on the flight distance. Moreover, you're also entitled to claim "right to care," where you can get free meals and refreshments if your stay at the airport is more than 2 hours.
Is flight missed connection compensation worth it?
You might have missed your connecting flight due to the previous flight's delay, and it might have cost you a lifetime opportunity. You might also have missed an important event without any fault, which surely requires compensation.
How to claim flight missed connection compensation?
Knowing your rights as a passenger under the EC regulations 261 is the need of the hour! If you've missed a connecting flight, it might have ruined your whole travel plan and might cost you another missed connecting flight in the next few hours. Worry not; you can always claim the reimbursement via a flight missed connection compensation company. They can take care of all the documentation and help you claim the compensation you are owed.
Calculate Your Missed Connection Compensation
Where were you flying to?
Conclusion
Missing a connecting flight not only means that you'll arrive at the destination late but will be stranded at the airport for 2 hours or more waiting for the next flight. You're entitled to claim your "right to care" and "compensation" in that case.
As per EC261 regulation, the airline is obliged to pay missed connection compensation in cash or bank transfer/band orders/cheques and a right to care where you'll be provided with the food and refreshments at the airport (if passengers have to wait at the airport for more than 2 hours).
Best flight missed connection compensation companies enforce the passenger's rights and claim the airlines' reimbursement under the EC261 regulation. These companies run a portal where you can check whether you're entitled to compensation or not. The company will handle all the legal actions and communication with the airline.
What's best is the "no win-no fee" rule as the compensation company will charge 30% only on the successful reimbursement. Don't wait and submit a claim with our best flight missed connection compensation companies!
About an Author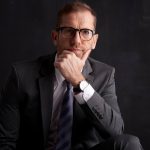 Scott Welsch is a London-based attorney. He specializes in travel law, and he wants to educate people on their rights as European travelers. Many flight compensation companies try to entice their customers with promises of speedy service, success rates, and money they have successfully returned. These look like the best options to the untrained eye and the frazzled traveler sitting on an airport floor. Our mission here is to keep the comparison list up to date, allowing you to work with the exceptional companies only that live up to their shiny promises.