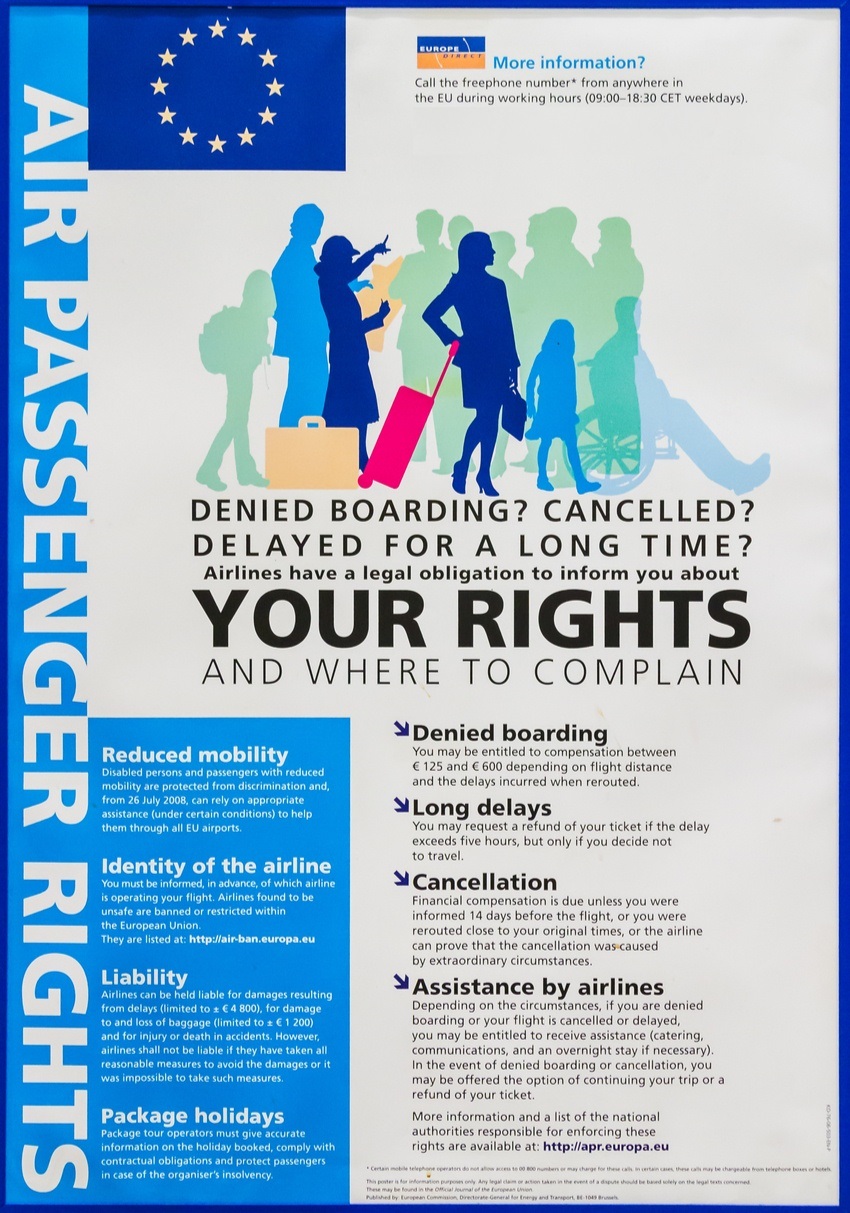 Traveling by air has for the most part become the preferred mode of transportation for the average person as it holds many advantages. It is without a doubt the quickest way to arrive at your point of destination. Being a passenger on an airplane has been deemed far safer than riding in a car, train or bus as far as accident statistics show. Comfort levels during transport are much more accommodating in an airplane as you are given a climate-controlled cabin, beverages and snacks or a meal, fairly comfortable seating, and the ability to stand if you need to. Unfortunately, there are many drawbacks as well. As a traveler, however, you do have air passenger rights.
Throughout the years, flying has developed into a very hectic experience and has drawn more complaints for many of the passengers. There is much more stringent security which increases the wait and the elevation in fuel costs inflates ticket prices. Many people are facing disrupted flights or delays and cancellations as well as overbooked flights when they reach the airport for their trip. Most travelers do not have any knowledge that there are specific rights that advocate for travelers to protect them and give them compensation for a variety of unfortunate situations that they may find themselves in.
Air Passenger Rights
A majority of the EU passengers are not aware that there are rights laid out to serve them when instances happen that are out of their control. EU law holds a regulation, EC 261/2004, in favor of the air passengers. With this regulation in place, the airlines are looked at when unexpected instances take place to interrupt flights for travelers, as long as the event wasn't something that was deemed to be out of the airline's control. This law has grown to be the most comprehensive by comparison with others and has proven to be critical protection for the European travelers.
This part of the legislation will cover any passenger who is leaving a European airport and, in some situations, those travelers from other global destinations coming into Europe might be covered by EC 261 as well. Many of these folks traveling don't realize that the airlines can be financially and legally responsible in a lot of cases for flight problems, not the passengers. Based on your flight, the ultimate destination, and your flight's scenario, you could be entitled to reimbursement for each member of your traveling party.
EU 261
When filing an EU 261 claim, you need to be sure to do so in a reasonable amount of time as the flight compensation period will expire after a certain period which varies by country. Some of the rights that are covered under EU 261 include:
Each airline is to advise the passengers of their rights in EU 261 up front when you check-in for your flight. It is to be posted at the desk.
A delay that goes beyond five hours, will entitle you to at least a partial if not full refund of the original airplane ticket price in addition to the reimbursement for the lost time you endured plus a flight back to where you departed.
The airline is expected to be attentive to its passengers in the event that a flight is disrupted by providing essentials until the flight is prepared including phone access, accommodations/transport if necessary in an overnight scenario, meals/refreshments.
If you are placed on an alternative flight and, therefore, your class has been altered, the airline can't charge you additional fees for a higher class, but you will be able to get reimbursement for a lesser class.
Always be sure that you take note of any posted or take-away information provided by the airlines when you are checking in. The details that you receive will let you know what you are entitled to by law. No matter what the inconvenience you may suffer, you'll know you're protected.