ClaimCompass is a flight compensation company that is dedicated to pursuing air passenger rights and ensuring access to compensation for delayed and cancelled flights that fall under the Flight Compensation Regulation in the European Union. Their service is quick and easy to start using, and you can find out if you are eligible to submit a claim within less than three minutes.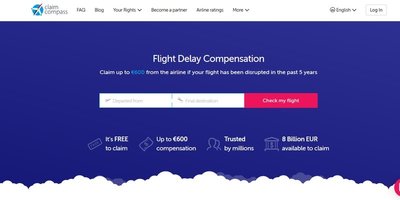 They only charge a fee if they win, so there is no money out of pocket, and you can submit a claim with ClaimCompass to be compensated for any flight that falls under the regulation within the past five years.
Claimcompass.eu overview
| OVERALL RANK: | #3 out of 34 |
| --- | --- |
| OUR RATING: | 4.5/5 |
| USABILITY: | Very easy to use |
| AVERAGE COMPENSATION: | 300€ |
| SERVICE COST: | 35% |
| AVERAGE COMPENSATION TIME: | 8-16 weeks |
| LANGUAGES: | 10 |
| REVIEWS: | 81% are five star "Excellent" reviews |
| OFFICIAL WEBSITE: | Claimcompass.eu |
Our Claimcompass.eu review
ClaimCompass is a professional and efficient company in the business of flight compensation. They are very highly reviewed on their website and generally applauded for being efficient, communicative, and overall an easy and effective service. Sometimes people are skeptical of the process of flight compensation, but ClaimCompass makes it easy to feel like you are getting the money you deserve with little hassle or headache.
ClaimCompass is responsive and will work as quickly as possible to get the claim and compensation taken care of. Some reviewers mention receiving compensation in as little as two weeks. While each case is highly variable, ClaimCompass seems to have a faster turnaround time than other companies. In addition, they are available to interact with customers in many languages, so they can offer their services to a large percentage of the people who are flying within the European Union under these regulations.
Overall, ClaimCompass works efficiently on behalf of the passenger and has staff with immense knowledge of the airline industry and regulations. They provide plenty of information, including ratings on each airline's flight compensation tendencies, so the customer has a good idea of what they are getting into. Furthermore, the more claims they can win, the more money they will make, so they are pretty motivated to bring you the money you deserve to compensate for a bad flight experience in the European Union.
Other things to know about Claimcompass.eu
Claimcompass charges a 35% commission on any claim that they win for you.
They can tell you very quickly if you are eligible to submit a claim.
They provide service in English, Dutch, Spanish, French, Greek, Italian, Portuguese, Romanian, Russian, and Turkish
They have been featured in Tech Crunch, Venture Beat, and Forbes
ClaimCompass is able to serve many different nationalities and languages.

They work efficiently and professionally.

ClaimCompass has an online platform that compares and rates over 150 airlines for how they are for processing these claims.

They have an informative website and are active on several different social media platforms.

ClaimCompass provides frequent updates on the progress of your claim.
They are not based in the European Union, but they do have contact centers and offices around the world.

Some people are dissatisfied with the quality of their customer service.
Claimcompass.eu flight compensation
Mid ranged flights
Flights from 1500 km to 3500 km
Long flights
Flights more than 3500 km
Claimcompass.eu fee
Claimcompass.eu FAQ
The airline offered me a voucher: what do I do?
Scott Welsch
2020-01-07T03:46:29+00:00
According to Article 7.3 of the EU Regulation 261/2004, "The compensation […] shall be paid in cash, by electronic bank transfer, bank orders or bank cheques or, with the signed agreement of the passenger, in travel vouchers and/or other services."
In other words, you can refuse the offer from the airline and ask them to pay your compensation in cash or bank transfer instead.
If you filed a claim via ClaimCompass and received a voucher proposal from the airline, please forward the message to our support team at support@claimcompass.eu
Note that if you have already accepted the voucher from the airline, we are unable to secure further compensation for your disrupted flight and the amount of our commission will be calculated based on the amount of the voucher.
For more information on what to do when the airline offered you a voucher, read this post.