Flight-Delayed is a website that fights on behalf of customers for compensation on canceled or delayed airline flights. Despite it being the law within the European Union to compensate ticket holders for flight delays or cancellations, often the airlines will refuse to pay up, or at least make the compensation process a huge hassle.
Thankfully, there are services to hire in order to take the time and hassle out of the process. Flight-Delayed is one of those services, boasting high customer ratings, and a near perfect success rate.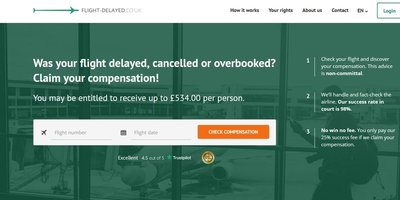 Flight-delayed.co.uk overview
| OVERALL RANK: | #4 out of 24 |
| --- | --- |
| USABILITY: | Very Easy To use |
| AVERAGE COMPENSATION: | 312€ |
| SERVICE COST: | 29% |
| AVERAGE COMPENSATION TIME: | 10-16 weeks |
| LANGUAGES: | 10 |
| REVIEWS: | 79% are five star "Excellent" reviews |
| OFFICIAL WEBSITE: | Flight-delayed.co.uk |
Our
Flight-delayed.co.uk
review
Overall, Flight-Delayed is a good choice of airline compensation sites. They do not have the highest volume, but that may mean more meaningful interaction with team members. Their high reviews and near-perfect success rate speak for the professionalism. And, at the least, their website is a good resource for learning about what rights customers have in cases of egregious airline conduct. As usual, you can count on Flight-Delayed to not waste your money, because they only take 29% of what the airline agrees to compensate, making each claim valuable to them. Reliability is by far their strongest asset. Unfortunately, flight cancellations and delays happen all too frequently, so having a sound airline compensation team is important. And while it can be difficult to choose an airline compensation provider when there are so many, Flight-Delayed will reliably offer each of their customers a sound legal experience and excellent compensation. If you can look past the lack of telephone correspondence and trust that Flight-Delayed will do all they can to win your compensation, then when you submit your claim through the team at Flight-Delayed, you can sit back and know that sometime within the next year your money will be rolling in.
Other things to know about flight-delayed.co.uk
Compensation time can take up to 6 months, and actual value can be up to roughly €600.
The success fee for Flight-Delayed is the regular 29%, taken after the compensation is decided.
Customer service is reliable, but there is no way to contact other than email through the website, to ensure all correspondence is legally documented.
Flight-Delayed is reviewed highly by past customers, achieving almost 9/10 across more than 1000 reviews.
The website is fairly easy to use, with most of the tools available at the bottom of the page rather than across the website header.
Flight-Delayed offers customers support in 10 different languages.
Flight-Delayed offers a high compensation rate, easily doubling most airline ticket costs back in compensation.

Their website clearly outlines the rights of customers, making their site simultaneously a service provider and good resource for those unaware of airline compensation law.

Flight-Delayed has a very high success rate, and wins nearly every case ever submitted to court.

Offering 10 languages to customers provides a fairly inclusive platform for receiving compensation.
Flight-Delayed does not offer any other mode of correspondence than through emailing their website address, creating delays in customer queries.

Their website is not entirely straightforward, with most resources being found at the bottom, not easily seen.
Flight-delayed.co.uk flight compensation
Mid ranged flights
Flights from 1500 km to 3500 km
Long flights
Flights more than 3500 km
Flight-delayed.co.uk fee
When are you entitled to EU flight compensation?
EC Regulation Number 261/2004 establishes common rules for passenger compensation aid for flight delays in the European Union countries. These rules state that passengers are to be given compensation if their flight was departing or arriving in EU and was delayed due to airline's fault. Compensation is given to a passenger who has experienced a delay of more than 3 hours. A flight delay in general can be any delay, though in order to qualify for compensation, the delay must put you at your final destination more than 3 hours late. A canceled flight is considered eligible for compensation if it was cancelled less than 14 days before scheduled departure date. Bellow you will find the most common airline's faults:
Airplane Technical Issues
If the airplane has mechanical or technical issues, such as faulty landing gear or questionable control systems, then the airplane is considered to have technical errors, and is not safe to proceed with the flight.
Airplane Rotation
Rotation situations involve the plane arriving late from its previous destination. This offsets the time it departs on its next scheduled flight route.
Operational Issues
Operational issues can include anything having to do with the planning of the flight. This normally involves route planning, but it could include other technicalities that affect the operation of the plane.
Other
The law provides some level of flexibility here, since there are other scenarios where the flight may not be able to proceed. These reasons are not always foreseeable, therefore hard to document specifics.
When are you not entitled to EU flight compensation?
There are certain circumstances where the airline is not responsible for flight disruptions. If the airline is not responsible, then passengers do not qualify for compensation.
Delayed for Less Than 3 Hours
If you flight was delayed, but you still made it to your final destination in less than 3 hours late, then you do not qualify for compensation.
Flight Canceled More Than 14 Days Ago
A canceled flight is not considered eligible for compensation if it was cancelled more than 14 days before scheduled departure date.
Airplane Manufacturing Flaws
Manufacturing flaws in the aircraft is considered to be no fault of the airline. Under these conditions, no compensation is required.
Bad Weather Conditions
If it is determined to be unsafe for the aircraft to depart, the airline is not at fault and compensation is not required.
Strikes and Incidents
Strikes are not considered the fault of the airline; therefore, compensation benefits do not apply.
Non-EU Flight/Operator
If your flight carrier isn't registered in the EU, the flight does not qualify for compensation.
Flight-delayed.co.uk FAQ
What does Flight-Delayed.co.uk do?
Scott Welsch
2020-01-07T04:20:56+00:00
Did you experience a long delay, a cancellation or were you denied boarding? We can quickly tell you if you are entitled to receive financial compensation of up to € 600,- per person.
Should you be entitled to financial compensation, we collect all relevant proof and information concerning the flight in question and take on correspondence with the respective airline on your behalf.
In certain cases, we initiate legal steps such as: letters of default, debt collection letters and legal proceedings. This becomes necessary in the case that airlines deny you the compensation you're entitled to.
It isn't always easy to get your money back, but we have the knowledge and expertise to bring your claim to a successful conclusion.