Skycop is one of the best flight compensation companies that operate in the European Union to assist in claiming compensation in the case of any flight interruptions listed under the Flight Compensation Regulation, including delays and cancellations. Airlines lose money when they lose compensation cases, so they have made it a complicated process.
Skycop is one of the companies that want to work with you to claim the compensation you are entitled to for the disruption that comes with inconvenient changes to your travel itinerary.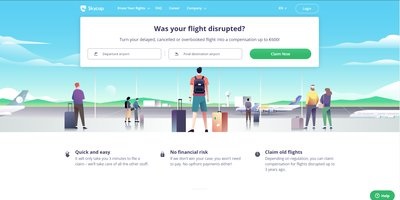 Each flight compensation company has a different process for getting you your compensation. The following is a review of the specs specific to Skycop and what you can expect from working with them.
Skycop.com overview
| OVERALL RANK: | #1 out of 34 |
| --- | --- |
| OUR RATING: | 5/5 |
| USABILITY: | Very easy to use |
| AVERAGE COMPENSATION: | 322€ |
| SERVICE COST: | 30% |
| AVERAGE COMPENSATION TIME: | 6-12 weeks |
| LANGUAGES: | 8 |
| REVIEWS: | 88% are five star "Excellent" reviews |
| OFFICIAL WEBSITE: | Skycop.com |
| EXPEDITED COMPENSATION WITH: | WizzAir, AirBaltic, Aeroflot, Turkish Airlines, LOT, EasyJet, SAS, AirFrance, Lufthansa, SmartLynx, TAP Portugal |
| --- | --- |
Our Skycop.com review
Overall, Skycop provides a lot of information and a streamlined process for getting compensation from airlines. They pride themselves on getting people the money that they are owed, and their customer service and amount of people that they have successfully served provides a tangible reflection of this passion. Skycop has a very informative and secure website that explains the process and what it may entail very well. Their staff and willing to work through several months of claims and negotiations to get results, and past customers say they do this patiently and graciously. Skycop provides all the information you need to decide if you want to use their company to claim compensation from airlines. They have low commissions, but they put plenty of time and effort into the process that would otherwise take months of further disruption to your life and schedule. They make it worth it to open a claim and begin the process to see if you can get anything back your disrupted travel experience.
Other things to know about Skycop.com 
Skycop is a global company that is based in Vilnius, Lithuania. They offer their services around the European Union and support English, Polish, Italian, Spanish, Lithuanian, German, Portuguese, and Russian.
They are paid by success fee, so if they succeed in your compensation claim, you will be charged a commission of 30%.
Skycop averages the recovery process to take them around 8 weeks from claim submission to payout, but it can take less time or more time depending on the case.
87% of the hundreds of reviews on their website are five star "Excellent" reviews.
Depending on the flight, Skycop says that you can expect anything between €250 and €600 in compensation.
Skycop provides caring and genuine customer service.

They will work through several rounds of negotiations with unwilling airlines to get compensation for their customers.

They have a safe and trustworthy system for submitting and fulfilling claims.

Skycop provides quick and streamlined communications to make the process as simple for you as possible.
Some reviewers were disappointed with how long it took to process their claim.
Skycop.com flight compensation
Mid ranged flights
Flights from 1500 km to 3500 km
Long flights
Flights more than 3500 km
Skycop.com fee
Skycop.com FAQ
Is Skycop legit?
Scott Welsch
2022-08-07T21:32:36+01:00
Yes, they are. Skycop is a privately held company that was founded in 2016. Now they have 51-200 eomployees. Their team of highly trained professionals are with 10+ years of experience in aviation, legal and finance business are here to help you receive your compensation in the fastest and easiest way possible.