Skycop is one of the best flight compensation company that operates in the European Union to assist in the process of compensation claiming in the case of any flight interruptions listed under the Flight Compensation Regulation, including delays and cancellations. Airlines lose money when they lose compensation cases, so they have made it a difficult and complicated process.
Skycop is one of the companies that want to work with you to claim the compensation you are entitled to for the life disruption that comes along with inconvenient changes to your travel itinerary.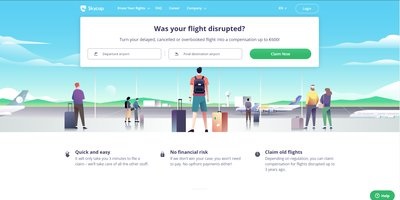 Each flight compensation company has a different process for getting you your compensation. The following is a review of the specs that are specific to Skycop and what you can expect from working with them.
Skycop.com overview
| OVERALL RANK: | #1 out of 24 |
| --- | --- |
| USABILITY: | Very easy to use |
| AVERAGE COMPENSATION: | 320€ |
| SERVICE COST: | 30% |
| AVERAGE COMPENSATION TIME: | 6-12 weeks |
| LANGUAGES: | 8 |
| REVIEWS: | 88% are five star "Excellent" reviews |
| OFFICIAL WEBSITE: | Skycop.com |
| EXPEDITED COMPENSATION WITH: | WizzAir, AirBaltic, Aeroflot, Turkish Airlines, LOT, EasyJet, SAS, AirFrance, Lufthansa, SmartLynx, TAP Portugal |
| --- | --- |
Overall, Skycop provides a lot of information and a streamlined process for getting compensation from airlines. They pride themselves on getting people the money that they are owed, and their customer service and amount of people that they have successfully served provides a tangible reflection of this passion. Skycop has a very informative and secure website that explains the process and what it may entail very well. Their staff and willing to work through several months of claims and negotiations to get results, and past customers say they do this patiently and graciously. Skycop provides all the information you need to decide if you want to use their company to claim compensation from airlines. They have low commissions, but they put plenty of time and effort into the process that would otherwise take months of further disruption to your life and schedule. They make it worth it to open a claim and begin the process to see if you can get anything back your disrupted travel experience.
Other things to know about Skycop.com 
Skycop is a global company that is based in Vilnius, Lithuania. They offer their services around the European Union and support English, Polish, Italian, Spanish, Lithuanian, German, Portuguese, and Russian.
They are paid by success fee, so if they succeed in your compensation claim, you will be charged a commission of 30%.
Skycop averages the recovery process to take them around 8 weeks from claim submission to payout, but it can take less time or more time depending on the case.
87% of the hundreds of reviews on their website are five star "Excellent" reviews.
Depending on the flight, Skycop says that you can expect anything between €250 and €600 in compensation.
Skycop provides caring and genuine customer service.

They will work through several rounds of negotiations with unwilling airlines to get compensation for their customers.

They have a safe and trustworthy system for submitting and fulfilling claims.

Skycop provides quick and streamlined communications to make the process as simple for you as possible.
Some reviewers were disappointed with how long it took to process their claim.
Skycop.com flight compensation
Mid ranged flights
Flights from 1500 km to 3500 km
Long flights
Flights more than 3500 km
Skycop.com fee
When are you entitled to EU flight compensation?
EC Regulation Number 261/2004 establishes common rules for passenger compensation aid for flight delays in the European Union countries. These rules state that passengers are to be given compensation if their flight was departing or arriving in EU and was delayed due to airline's fault. Compensation is given to a passenger who has experienced a delay of more than 3 hours. A flight delay in general can be any delay, though in order to qualify for compensation, the delay must put you at your final destination more than 3 hours late. A canceled flight is considered eligible for compensation if it was cancelled less than 14 days before scheduled departure date. Bellow you will find the most common airline's faults:
Airplane Technical Issues
If the airplane has mechanical or technical issues, such as faulty landing gear or questionable control systems, then the airplane is considered to have technical errors, and is not safe to proceed with the flight.
Airplane Rotation
Rotation situations involve the plane arriving late from its previous destination. This offsets the time it departs on its next scheduled flight route.
Operational Issues
Operational issues can include anything having to do with the planning of the flight. This normally involves route planning, but it could include other technicalities that affect the operation of the plane.
Other
The law provides some level of flexibility here, since there are other scenarios where the flight may not be able to proceed. These reasons are not always foreseeable, therefore hard to document specifics.
When are you not entitled to EU flight compensation?
There are certain circumstances where the airline is not responsible for flight disruptions. If the airline is not responsible, then passengers do not qualify for compensation.
Delayed for Less Than 3 Hours
If you flight was delayed, but you still made it to your final destination in less than 3 hours late, then you do not qualify for compensation.
Flight Canceled More Than 14 Days Ago
A canceled flight is not considered eligible for compensation if it was cancelled more than 14 days before scheduled departure date.
Airplane Manufacturing Flaws
Manufacturing flaws in the aircraft is considered to be no fault of the airline. Under these conditions, no compensation is required.
Bad Weather Conditions
If it is determined to be unsafe for the aircraft to depart, the airline is not at fault and compensation is not required.
Strikes and Incidents
Strikes are not considered the fault of the airline; therefore, compensation benefits do not apply.
Non-EU Flight/Operator
If your flight carrier isn't registered in the EU, the flight does not qualify for compensation.
Skycop.com FAQ
The air carrier offered me a travel voucher after my flight was cancelled. Can I still ask for a refund?
Scott Welsch
2021-08-15T08:01:33+01:00
You can always ask for a refund if you haven't accepted a travel voucher yet. Legally, the airline can give you a travel voucher instead of refund or re-routing only if you accept such an option. If you already accepted the voucher, it's for air carrier to decide, whether you can cash it out or not.