ClaimFlights is a company that fights for compensation on behalf of a traveler who has experienced certain types of flight trouble. These troubles range from a canceled flight, a delay of over three hours, not being able to board the plane due to overbooking, or a missed connection due to another flight being delayed.
They have an easy to use, all online process for putting in a claim that requires a few minutes to put in the basic details of the flight as found on your ticket. Then, they get to work on the traveler's behalf and, if needed, with an almost 100% success rate, fight in court for flight compensation.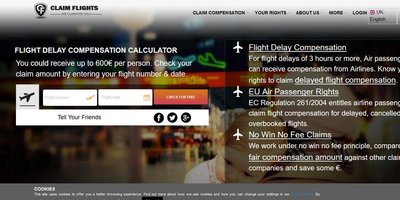 Claimflights.com overview
| OVERALL RANK: | #6 out of 34 |
| --- | --- |
| OUR RATING: | 4/5 |
| USABILITY: | Not very easy to use |
| AVERAGE COMPENSATION: | 308€ |
| SERVICE COST: | 25% |
| AVERAGE COMPENSATION TIME: | 8-16 weeks |
| LANGUAGES: | 8 |
| REVIEWS: | 96% are five star "Excellent" reviews |
| OFFICIAL WEBSITE: | Claimflights.co.uk |
Our Claimflights.com review
Overall, ClaimFlights looks like an exceptional compensation service. They fight on behalf of their clients based on European laws to get the compensation their customers deserve. They service an excellent seventy nine airlines and forty airports across three continents. This global reach is a plus for any potential clients because it offers a vast number of both airlines and airports that could be covered under their claim. While their global reach goes as far as North American and Asian companies, the only problem is that claims can only be made on claims that either took off or landed in a European Union country. In addition, they do not speak all the different languages of the countries they service, so if the customer does not speak another language, such as English or German, it will be hard for them to use the service. They have an almost 100% success rate and work on a "No Win, No Fee" basis with no hidden costs, which means it is free to use if you do not receive any compensation. They have 9.7 out of 10 stars on Trustpilot. ClaimFlights is a good option for customers seeking compensation from a much wider travel area than just within the UK or significant European countries.
Other things to know about Claimflights.com

Country: Located in Germany.
Success fee: 25% plus tax commission fee of the money you are awarded.
Average compensation time: 8 weeks to over a year.
Languages spoken: UK- English, Spanish, German, French, Polish, and Russian
When it was established: 2015.
Airlines supported: 79 airlines including but not limited to: Air France, British Airways, Air Berlin, Air China, Korean Air, Lufthansa Airlines, Delta Airlines, Norwegian Airlines, United Airlines, and many more.
Airports supported: 40 Airports including but not limited to: Amsterdam Airport, Birmingham Airport, Dubai Airport, Heathrow Airport, JFK Airport, Los Angeles International Airport, Newark International Airport, Zurich Airport and many more.
ClaimFlights works in a large number of airports and airlines.

They speak six most popular European languages they speak.

Their claim service is all online, which requires no scanning or paper work.

Almost 100% success rate.
ClaimFlights' claims are only supported if your flight took off or landed in an EU country.

Some cases are refused with the reason that it is out of their scope of work.

The limited number of languages they speak in relation to the number of countries they service, and the length of time it takes.
Claimflights.com flight compensation
Mid ranged flights
Flights from 1500 km to 3500 km
Long flights
Flights more than 3500 km
Claimflights.com fee
Claimflights.com FAQ
What if the airline contacts me directly?
Scott Welsch
2020-01-08T03:36:48+00:00
When you have filed a claim with Claim Flights and the airline contacts you directly, you should contact Claimflights immediately. You can reach us by e-mail. It is possible that Claim Flights has already started a legal procedure against the airline on your behalf and has consequently had to cover the costs for this. If the airline pays you directly, we will invoice you for the costs we have incurred, in accordance of our Terms & Conditions.
Always contact Claim Flights when you are contacted by the airline before accepting any offers that are made to you by the airline.