Fairplane helps make compensation claims to those who have had a delayed, cancelled or overbooked flight. Though the company Fairplane was created in Austria in 2012, a UK branch was added in 2015. They can find and help passengers with strategies to obtain their claim and are registered with the Law Society and the Solicitors Regulatory Authority or SRA.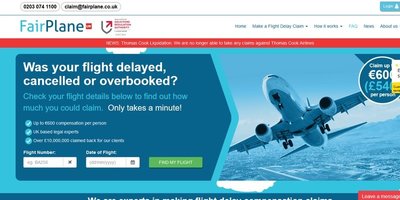 They are able to help people thanks to their database of flight data as well as aircraft movements and data from historical weather patterns. They also have specialized lawyers versed in flight law and European law.
Fairplane.co.uk overview
| OVERALL RANK: | #8 out of 24 |
| --- | --- |
| USABILITY: | Very easy to use |
| AVERAGE COMPENSATION: | 303€ |
| SERVICE COST: | 30% |
| AVERAGE COMPENSATION TIME: | 10-12 weeks |
| LANGUAGES: | 1 |
| REVIEWS: | 88% are five star "Excellent" reviews |
| OFFICIAL WEBSITE: | Fairplane.co.uk |
Our 
Fairplane.co.uk
review
With it's dedicated lawyers, researchers and experts, Fairplane gives you the best chance of success when it comes to your airline compensation claim. They are able to do this thanks to their ability to compile data of flight plans, weather data and other necessary things to help with your claim. They claim a near perfect claim success guarantee which aligns with the overwhelming positive response.
Their website is user friendly and spells everything out in easy to understand terms. It tells you how much you are paying, how long it takes and any caveats you need to take not of. While this branch is only located in the United Kingdom, the Fairplane company covers many European airlines and countries.
Fairplane also stays with the client every single step of the way, making sure they are informed of their claim status, as well as making the process easier in every way. They contact the airline directly and work with them and the law to get the best result possible. They have only been in the game a few years, but they have proved that they have the know-how, the resources and the support of others to help clients get the compensation for the delayed flight and cancellation they are owed. It may take a little while to get your claim settled, but they will whatever necessary to get it to you, and you will only be charged if you claim is successful.
Other things to know about Fairplane.co.uk
UK Fairplane branch was established in 2015
Based in the United Kingdom.
Fee is calculated based on success and how much claim money the client obtained. Fee = £25 Admin Fee + 30% + the Eurpoean VAT or Value Added Tax.
The average compensation time for a successful claim is an average 61 days. However it could take up to 10 to 12 weeks for the claim to finish.
Provides a guarantee that almost every case will be successful.
Does not require a client to go to court or attend any legal proceedings and pays for any possible legal fees.
If you don't win any compensation, you don't have to pay for the service.

Has a dedicated team of lawyers and experts to help your claim.

Takes legal action against airline if need be, but does not require the client to attend court proceedings.

Claim is insured to prevent financial risk.

Under regulation of the SRA or Solicitors Regulatory Authority.
Claim could take up to 10 to 12 weeks.

Branch is only located in the United Kingdom.
Fairplane.co.uk
flight compensation
Mid ranged flights
Flights from 1500 km to 3500 km
Long flights
Flights more than 3500 km
When are you entitled to EU flight compensation?
EC Regulation Number 261/2004 establishes common rules for passenger compensation aid for flight delays in the European Union countries. These rules state that passengers are to be given compensation if their flight was departing or arriving in EU and was delayed due to airline's fault. Compensation is given to a passenger who has experienced a delay of more than 3 hours. A flight delay in general can be any delay, though in order to qualify for compensation, the delay must put you at your final destination more than 3 hours late. A canceled flight is considered eligible for compensation if it was cancelled less than 14 days before scheduled departure date. Bellow you will find the most common airline's faults:
Airplane Technical Issues
If the airplane has mechanical or technical issues, such as faulty landing gear or questionable control systems, then the airplane is considered to have technical errors, and is not safe to proceed with the flight.
Airplane Rotation
Rotation situations involve the plane arriving late from its previous destination. This offsets the time it departs on its next scheduled flight route.
Operational Issues
Operational issues can include anything having to do with the planning of the flight. This normally involves route planning, but it could include other technicalities that affect the operation of the plane.
Other
The law provides some level of flexibility here, since there are other scenarios where the flight may not be able to proceed. These reasons are not always foreseeable, therefore hard to document specifics.
When are you not entitled to EU flight compensation?
There are certain circumstances where the airline is not responsible for flight disruptions. If the airline is not responsible, then passengers do not qualify for compensation.
Delayed for Less Than 3 Hours
If you flight was delayed, but you still made it to your final destination in less than 3 hours late, then you do not qualify for compensation.
Flight Canceled More Than 14 Days Ago
A canceled flight is not considered eligible for compensation if it was cancelled more than 14 days before scheduled departure date.
Airplane Manufacturing Flaws
Manufacturing flaws in the aircraft is considered to be no fault of the airline. Under these conditions, no compensation is required.
Bad Weather Conditions
If it is determined to be unsafe for the aircraft to depart, the airline is not at fault and compensation is not required.
Strikes and Incidents
Strikes are not considered the fault of the airline; therefore, compensation benefits do not apply.
Non-EU Flight/Operator
If your flight carrier isn't registered in the EU, the flight does not qualify for compensation.
Fairplane.co.uk FAQ
I booked a package holiday which included a flight that was delayed. Can I claim flight delay compensation?
Scott Welsch
2020-01-09T01:09:48+00:00
The fact that your booking included different elements does not affect your right to claim compensation. The key issue is whether or not the delayed flight would qualify for compensation under the EU rules:
The flight must have been delayed from arriving at your final destination by 3 hours or more

The delay must have been within the control of the airline (i.e. not weather issues or similar)

The flight must have taken off from within the EU or landed in the EU and be an EU owned airline.

There is sometimes the potential for confusion when the the question is asked in regards to whether a claim can be made on behalf of a child. The answer is it can, provided that something was paid for their airline ticket. It is not uncommon for offers to be made as part of package holiday deals where 'Children go free' or similar. If this is the case, then a claim could not be made on the child's behalf.