FlightRight claims to be the #1 company for air passenger rights. They have been featured in the Wall Street Journal, the Boston Globe, NBC News, The Daily Telegraph, and more as a leading company fighting for their customers rights to compensation due to air travel mishaps.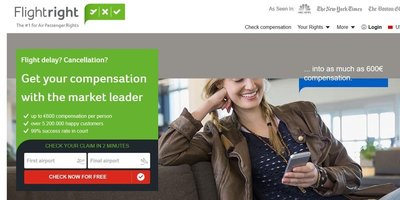 For FlightRight to start fighting for a customer's compensation, the customer has to use their website to type in their flight and what the problem was: delay, cancellation, missed connection, or overbooking. After that, FlightRight handles the rest by enforcing the customer's rights against the airline companies.
Flightright.com overview
| OVERALL RANK: | #7 out of 34 |
| --- | --- |
| OUR RATING: | 4/5 |
| USABILITY: | Very easy to use |
| AVERAGE COMPENSATION: | 310€ |
| SERVICE COST: | 30% |
| AVERAGE COMPENSATION TIME: | 8-14 weeks |
| LANGUAGES: | 8 |
| REVIEWS: | 81% are five star "Excellent" reviews |
| OFFICIAL WEBSITE: | Flightright.com |
Our Flightright.com review
FlightRight is a successful company that fights for travelers who have lost money, time, and peace of mind due to problems with air travel. These problems could be as simple as a delay of over three hours to as large as a flight cancelation or overbooking. Any one of these experiences can waste a lot of traveler's time and lead to other missed flights, reservations, or important events they are trying to get to. FlightRight fights on behalf of the customers to get these funds back. They have a 99% success rate in fighting the airlines on behalf of the clients, with the possibility of fighting these claims up to six years after the traveler's flight. They have excellent reviews from notable sources such as the Wall Street Journal, NBC News, the Boston Globe, and the Daily Telegraph, as well as many satisfied customers. They also work on behalf of their customers with a large selection of airlines and airports as long as the flight either took off or landed within a country in the European Union. The span of FlightRight's reach in the airline world gives the opportunity to many customers to receive the compensations they deserve without having to fight the airlines themselves.
Other things to know about Flightright.com
Country: Germany
Success fee: 25% commission fee of the money you are awarded.
Average compensation time: a few weeks to up to a year.
Languages spoken: English, German, Swedish, French, Dutch, Italian, and Spanish.
When it was established: February 2010
Overall reputation: 99% success rate in Court, with over 200 Million Euros paid to their customers.
Airlines Supported: Air Canada, American Airlines, easyJet, Malaysia Airlines, Turkish Airlines, US Airways, Air France, British Airways, Lufthansa, Ryanair, United Airlines, and Virgin Atlantic
Airports Supported: Amsterdam Airport Schiphol, Denver International Airport, Orlando International Airport, Pittsburgh International Airport, Dallas Love Field Airport, Miami International Airport, Philadelphia International Airport, and Tampa International Airport
There is no up-front cost risk to the customer.

It takes very little time to submit a claim.

There are high chances of a successful return as they have a 99% success rate.

They have a team of experienced legal experts that also have extensive experience in travel law.

You can submit a claim up to six years from the time of your flight.
Claims can only be completed if the flight took off or landed in a country that is a member of the EU.

Claims can take a long time to be processed.

They also only service specific countries where they have lawyers available.
Flightright.com flight compensation
Mid ranged flights
Flights from 1500 km to 3500 km
Long flights
Flights more than 3500 km
Flightright.com fee
Flightright.com FAQ
You have requested my IBAN number, what is this?
Scott Welsch
2020-01-08T03:07:51+00:00
If your case is successful, we will request your International Bank Account Number — or IBAN for short — to transfer your compensation. This is different from your account number and tends to be 22 alphanumeric digits long, including a country code at the beginning. If you do not know your IBAN number, you may be able to locate it on your bank statement. Alternatively, your bank will be able to provide you with it. This information can then be securely entered into our online portal. Please note that bank account funds cannot be debited, withdrawn or transferred using only your IBAN. The IBAN is used solely to credit or transfer funds into bank accounts.