Airadvisor is a flight compensation company that seeks to provide compensation to their clients who have experienced a flight delay, missed a flight due to a delay or some other airline fault, or had a flight cancelled entirely. Thousands of flights are delayed or cancelled every year, making the possibility of experiencing one greater than most people expect.
While airline passengers have the legal right to compensation in the case of airline inconvenience, airlines are reluctant to pay up. Airadvisor makes the legal case for their clients. With high success rates, they win back compensation.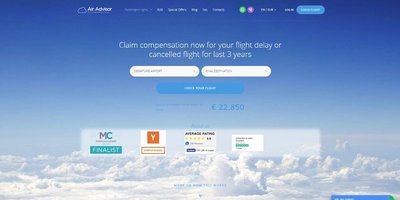 Airadvisor.com overview
| OVERALL RANK: | #10 out of 34 |
| --- | --- |
| OUR RATING: | 3.5/5 |
| USABILITY: | Very easy to use |
| AVERAGE COMPENSATION: | 298€ |
| SERVICE COST: | 30% |
| AVERAGE COMPENSATION TIME: | 8-16 weeks |
| LANGUAGES: | 5 |
| REVIEWS: | 9.2/10 from over 130 reviews at Trust Pilot |
| OFFICIAL WEBSITE: | Airadvisor.com |
Our Airadvisor.com review
Airadvisor is a standard airline compensation provider. They've helped over a thousand clients receive compensation for issues in flight delays and cancellations. Their website is easy to navigate, and their FAQ answers seem concise and informative. Their success fee is nothing lofty but rather an industry standard 25%, taken after the case is won. With a success rate of 98%, most clients can feel assured that by choosing Airadvisor they will almost certainly receive some amount of compensation. Since compensation ranges EUR 200-400, potential clients can calculate quite quickly how much Airadvisor will compensate them. Although wait times for compensation can seem lengthy, being between roughly 2 months to a year, this is largely due to the laws around when compensation must be dulled out by airlines, and less to do with the Airadvisor team. While it would be nice for Airadvisor to expand their scope of customers to include more EU languages, the five they offer is still inclusive compared to other airline compensation companies. Overall, choosing Airadvisor would be a wise choice for anyone looking for an average sized payout at very little risk of losing their case.
Other things to know about Airadvisor.com
Average compensation ranges from EUR 200-400, while the compensation is generally received within 8 weeks to 1 year.
Airadvisor receives a flat success fee of 30%, when the compensation is distributed.
They offer three forms of contact: phone number, email, website messenger.
According to Trust Pilot, a company reviewer site, Airadvisor receives a 9.2/10 from over 100 reviews.
Their site is easy to navigate and offers a free 2-minute service to discover if a past flight is entitled to compensation.
The languages they support are English, Russian, Romanian, Ukrainian, and Polish.
Airadvisor Pros

Airadvisor boasts a success rate of 98%.

Their website is easy to navigate, with the FAQ answering most questions potential clients might have.

Clients have 24-hour access to information about their case.

Their website chat window can help potential clients receive answers in real-time.

Standard success fee of 25%.
Their website's blog page seems a bit irrelevant to the service they provide.

Compensation wait times can be up to a year.

Their "special offers" page does not always show special offers.

Airadvisor only accepts cases which have occurred within the last 3 years.

They support only 5 of the 24 languages spoken in the EU.
Airadvisor.com flight compensation
Mid ranged flights
Flights from 1500 km to 3500 km
Long flights
Flights more than 3500 km
Airadvisor.com fee
Airadvisor.com FAQ
How can I check whether I have a right to compensation?
Scott Welsch
2020-01-07T01:35:20+00:00
Our website software instantly checks your flight compensation eligibility for free and lets you know whether you have a right to compensation or not. You just need to enter your flight data on the main page of our website that takes only a couple of minutes. You will get the result instantly.