Airadvisor is a flight compensation company that seeks to provide compensation to their clients who have experienced a flight delay, missed a flight due to a delay or some other airline fault, or had a flight cancelled entirely. Thousands of flights are delayed or cancelled every year, making the possibility of experiencing one greater than most people expect.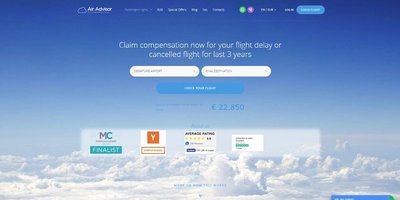 While airline passengers have the legal right to compensation in the case of airline inconvenience, airlines are reluctant to pay up. Airadvisor makes the legal case for their clients. With high success rates, they win back compensation.
Airadvisor.com overview
| OVERALL RANK: | #10 out of 24 |
| --- | --- |
| USABILITY: | Very easy to use |
| AVERAGE COMPENSATION: | 298€ |
| SERVICE COST: | 30% |
| AVERAGE COMPENSATION TIME: | 8-16 weeks |
| LANGUAGES: | 5 |
| REVIEWS: | 9.2/10 from over 130 reviews at Trust Pilot |
| OFFICIAL WEBSITE: | Airadvisor.com |
Our Airadvisor.com
review
Airadvisor is a standard airline compensation provider. They've helped over a thousand clients receive compensation for issues in flight delays and cancellations. Their website is easy to navigate, and their FAQ answers seem concise and informative. Their success fee is nothing lofty but rather an industry standard 25%, taken after the case is won. With a success rate of 98%, most clients can feel assured that by choosing Airadvisor they will almost certainly receive some amount of compensation. Since compensation ranges EUR 200-400, potential clients can calculate quite quickly how much Airadvisor will compensate them. Although wait times for compensation can seem lengthy, being between roughly 2 months to a year, this is largely due to the laws around when compensation must be dulled out by airlines, and less to do with the Airadvisor team. While it would be nice for Airadvisor to expand their scope of customers to include more EU languages, the five they offer is still inclusive compared to other airline compensation companies. Overall, choosing Airadvisor would be a wise choice for anyone looking for an average sized payout at very little risk of losing their case.
Other things to know about Airadvisor.com
Average compensation ranges from EUR 200-400, while the compensation is generally received within 8 weeks to 1 year.
Airadvisor receives a flat success fee of 30%, when the compensation is distributed.
They offer three forms of contact: phone number, email, website messenger.
According to Trust Pilot, a company reviewer site, Airadvisor receives a 9.2/10 from over 100 reviews.
Their site is easy to navigate and offers a free 2-minute service to discover if a past flight is entitled to compensation.
The languages they support are English, Russian, Romanian, Ukrainian, and Polish.
Airadvisor boasts a success rate of 98%.

Their website is easy to navigate, with the FAQ answering most questions potential clients might have.

Clients have 24-hour access to information about their case.

Their website chat window can help potential clients receive answers in real-time.

Standard success fee of 25%.
Their website's blog page seems a bit irrelevant to the service they provide.

Compensation wait times can be up to a year.

Their "special offers" page does not always show special offers.

Airadvisor only accepts cases which have occurred within the last 3 years.

They support only 5 of the 24 languages spoken in the EU.
Airadvisor.com flight compensation
Mid ranged flights
Flights from 1500 km to 3500 km
Long flights
Flights more than 3500 km
When are you entitled to EU flight compensation?
EC Regulation Number 261/2004 establishes common rules for passenger compensation aid for flight delays in the European Union countries. These rules state that passengers are to be given compensation if their flight was departing or arriving in EU and was delayed due to airline's fault. Compensation is given to a passenger who has experienced a delay of more than 3 hours. A flight delay in general can be any delay, though in order to qualify for compensation, the delay must put you at your final destination more than 3 hours late. A canceled flight is considered eligible for compensation if it was cancelled less than 14 days before scheduled departure date. Bellow you will find the most common airline's faults:
Airplane Technical Issues
If the airplane has mechanical or technical issues, such as faulty landing gear or questionable control systems, then the airplane is considered to have technical errors, and is not safe to proceed with the flight.
Airplane Rotation
Rotation situations involve the plane arriving late from its previous destination. This offsets the time it departs on its next scheduled flight route.
Operational Issues
Operational issues can include anything having to do with the planning of the flight. This normally involves route planning, but it could include other technicalities that affect the operation of the plane.
Other
The law provides some level of flexibility here, since there are other scenarios where the flight may not be able to proceed. These reasons are not always foreseeable, therefore hard to document specifics.
When are you not entitled to EU flight compensation?
There are certain circumstances where the airline is not responsible for flight disruptions. If the airline is not responsible, then passengers do not qualify for compensation.
Delayed for Less Than 3 Hours
If you flight was delayed, but you still made it to your final destination in less than 3 hours late, then you do not qualify for compensation.
Flight Canceled More Than 14 Days Ago
A canceled flight is not considered eligible for compensation if it was cancelled more than 14 days before scheduled departure date.
Airplane Manufacturing Flaws
Manufacturing flaws in the aircraft is considered to be no fault of the airline. Under these conditions, no compensation is required.
Bad Weather Conditions
If it is determined to be unsafe for the aircraft to depart, the airline is not at fault and compensation is not required.
Strikes and Incidents
Strikes are not considered the fault of the airline; therefore, compensation benefits do not apply.
Non-EU Flight/Operator
If your flight carrier isn't registered in the EU, the flight does not qualify for compensation.
Airadvisor.com FAQ
How far back can I claim?
Scott Welsch
2020-02-25T08:52:41+00:00
The Regulation No. 261/2004 does not set a time limit on how far back claims can go. There is no unified time limit for all EU countries. Hence time limit for flight claims is specified in national laws of the country where you bring the claim (European Court of Justice, Case C-139/11 dated November 22, 2012).
Generally, in majority of countries passenger can claim compensation for flights dated 3 to 5 years old, however other countries may have up to 10 years and even longer, so we encourage passengers to submit claims for all pre-existing disrupted flights and we will check it for you and notify you accordingly (you might have hundreds of EUR sitting in your email, so do not lose it).
Every EU country has its country-specific time limit. For example, in the UK – time to submit a claim to court is 6 years (confirmed in case Dawson v. Thomson Airways in 2014), so any claims for a flight less than 6 years old shall be eligible for flight compensation.
Important that time limit for bringing a claim is calculated from the date of the disrupted flight (date of arrival or scheduled departure in case of cancellation) and NOT until the date of claim submission to the airline, but until claim officially submitted to state court. Hence, it is important that passengers CLAIM FAST on their flights not to lose its rights. Warning, some airlines are actively trying to enter into lengthy settlement discussions directly with passengers in order to delay court filing, so once time has lapsed airline will immediately change its approach and reject passenger's claim completely without any remedy.