Refundmore.com is a flight compensation website that helps you receive compensation for flights that are delayed, cancelled, overbooked, and more. The team is comprised of lawyers and legal specialists throughout Scandinavia who are dedicated to helping you get the money you deserve. It's their mission to bring justice to air travelers, holding airlines responsible for their terms and conditions.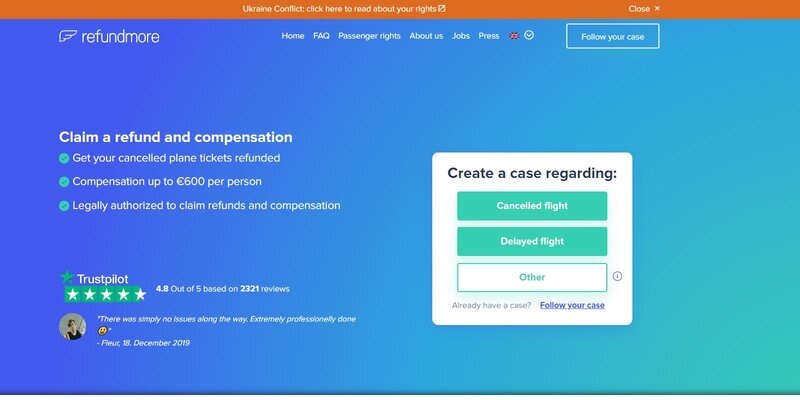 Often, airlines make it nearly impossible to claim your entitled compensation, and Refundmore.com has been working since 2014 to advocate on passengers' behalf across northern Europe.
Refundmore.com overview
| OVERALL RANK: | #5 out of 34 |
| --- | --- |
| OUR RATING: | 4/5 |
| USABILITY: | Very easy to use |
| AVERAGE COMPENSATION: | 314€ |
| SERVICE COST: | 30% |
| AVERAGE COMPENSATION TIME: | 8-16 weeks |
| LANGUAGES: | 5 |
| REVIEWS: | 4.1 stars out of 5 on TrustPilot |
| OFFICIAL WEBSITE: | Refundmore.com |
Our Refundmore.com review
Refundmore.com has more than 25 legal experts on their team who specialize in European air passenger law, working directly with the airline to help you get compensation for delayed, cancelled, or overbooked flights, as well as lost luggage, missed connections, and additional expenses. Their website is easy to use, with only three steps from start to finish. First, you enter your information to see if you are entitled to compensation, open a case if you are, then wait for your payment.
Refundmore.com charges a commission for each case they win, with a maximum fee of 30 percent, depending on the case's complexity. If your case goes to trial, they will charge an additional 15 percent fee. You do not have to pay if you do not win your claim against the airline, so it's in Refundmore.com best interest to deliver the best service possible.
Refundmore.com has more with 2,300 reviews on TrustPilot with an average rating of 4.8/5 stars. Customers report being happy with the support they received. They shared they avoided all the hassle by partnering with Refundmore.com while winning their case.
Other things you should know about Refundmore.com.
Helped more than 150,000 customers claim compensation with a 95 percent success rate.
The compensation you receive depends on the flight's distance, ranging from 250€ to 600€ depending on the type of disruption.
Customers typically receive their compensation 2 to 6 months after Refundmore.com files the claim; however, it can take up to a year and a half, depending on the case.
Serves EU carriers, so even if your trip takes you outside of the European Union, you can partner with them for legal assistance.
Refundmore.com has a legal team with more than 25 legal experts well versed in the EU carrier's terms and conditions to help you receive the compensation you deserve.

They work throughout the EU with EU-based carriers.

The claim process is quick and easy – it takes just 2 minutes to file a claim.

They work with flight issues, missing luggage, and incremental costs.

They only take payment if you win.
The fees can be pretty steep, with a maximum of 30 percent. Your fee will be outlined in your case terms before signing.

They add additional fees to take your case to court.

Payment can take up to 18 months.
Refundmore.com flight compensation
Mid ranged flights
Flights from 1500 km to 3500 km
Long flights
Flights more than 3500 km
Refundmore.com fee
Refundmore.com FAQ
What is Refundmore.com?
Scott Welsch
2022-05-13T21:15:19+01:00
Refundmore.com is a legal service that helps customers receive compensation for delayed, cancelled, or overbooked flights, missed connections, lost luggage, and additional expenses.