Claimair.com helps customers who have faced flight disruptions, like cancellations, delays, overbooking, and downgrading, lost baggage, and other issues with airlines receive compensation for their inconvenience. If you've faced any of these issues over the last six years while traveling in the European Union, then Claimair.com can help.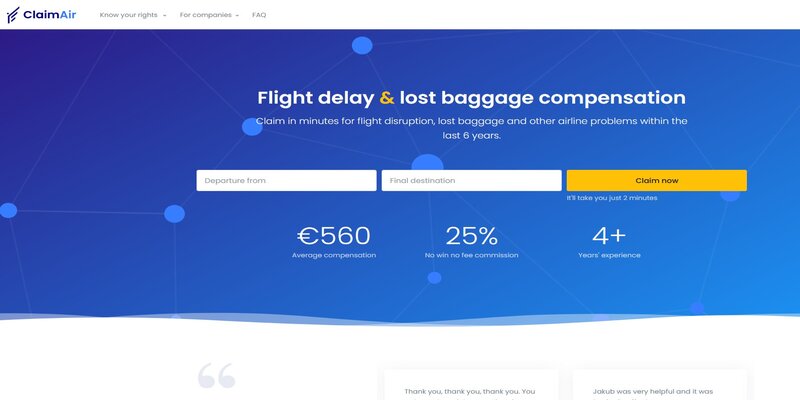 They have more than four years of experience advocating for clients' rights against big and small airlines, so they know the ins and outs of the system. They do the heavy lifting when all other attempts for compensation have failed.
Claimair.com overview
| OVERALL RANK: | #11 out of 34 |
| --- | --- |
| OUR RATING: | 3.5/5 |
| USABILITY: | Easy to use |
| AVERAGE COMPENSATION: | 309€ |
| SERVICE COST: | 25% |
| AVERAGE COMPENSATION TIME: | 8-16 weeks |
| LANGUAGES: | 2 |
| REVIEWS: | 4.2 stars out of 5 on TrustPilot |
| OFFICIAL WEBSITE: | Claimair.com |
Our Claimair.com review
Claimair.com is a flight compensation company based in Prague, Czech Republic. They use global legal frameworks signed by more than 100 countries to guide their work. As long as your delay occurred in the EU – even if it's not an EU-based airline – you are eligible for compensation.
Filling out their form takes just two minutes. Simply enter your information, including personal details and flight information. Claimair.com will contact you if your case is accepted and begin negotiations with the airline on your behalf. If needed, they will take your case to court, and you only pay if they win.
Claimair.com takes a 25 percent commission on all cases. Most customers receive their compensation within 13 weeks, though some can take longer depending on the complexity of your case. Claimair.com keeps you informed as updates are available, and with a 90% success rate, the odds are in your favor to receive a settlement.
Claimair.com has a 4.2 rating on TrustPilot, with more than 144 customers raving about the great service. They were pleased with the high level of customer service and quick resolution, helping get them the money they are entitled to.
Other things to know about Claimair.com
Claimair.com offers clients a full suite of services, including compensation related to delays, cancellations, missed connections, denied boarding, lost baggage, and unused flight refunds. They go back six years where available.
Claimair.com offers services in English and Czech languages to meet their clients' needs.
They have a 90% success rate, with an average three-month time from claim to decision and payout.
The average client receives €309 in compensation.
They only charge a 25 percent commission, though a VAT is included for all EU residents.
Claimair.com charges a 25 percent commission, which is pretty in line with industry standards.

They offer assistance with all of your flight-related needs, including delays, cancellations, denied boarding, and missed connections. They also help with refunds and lost baggage.

Some customers report receiving compensation in as little as one week, though the average time is about three months.
Claimair.com charges an additional VAT on top of the commission for EU residents.

Some clients have reported difficulty reaching customer service, citing communication issues with non-native English speakers.
Claimair.com flight compensation
Mid ranged flights
Flights from 1500 km to 3500 km
Long flights
Flights more than 3500 km
Claimair.com fee
Claimair.com FAQ
What is Claimair.com?
Scott Welsch
2022-05-17T02:43:54+01:00
Claimair.com is a flight compensation company based in Prague, Czach Republic, that helps get money for inconveniences based on EU regulations to protect passengers.