Flightclaimeu is a subsidiary of CCN (Claims Corporation Network) Aviation. They have made it their desire to allow air travellers to know their passengers rights and provide services that reflect this desire. They have many different services that allow them to represent clients for flight compensation among other things.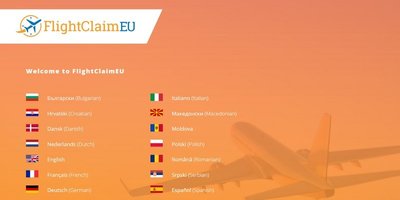 Although just a trademark of the CCN, Flightclaimseu handles all of their clients through the Flightclaimseu banner allowing for personalized service. Any data provided will only be used by the Flightclaimseu service and nowhere else.
Flightclaimeu.com overview
| OVERALL RANK: | #9 out of 24 |
| --- | --- |
| USABILITY: | Very Easy To use |
| AVERAGE COMPENSATION: | 301€ |
| SERVICE COST: | 25% |
| AVERAGE COMPENSATION TIME: | 8-12 weeks |
| LANGUAGES: | 17 |
| REVIEWS: | 0% are five star "Excellent" reviews |
| OFFICIAL WEBSITE: | Flightclaimeu.com |
Our 
Flightclaimeu.com
review
Since Flightclaimseu.com is a part of CCN Aviation, they have access to resources that other flight compensation companies may not. They have their own supply of legal counsel and lawyers who can help you receive any compensation you may be owed due to a delayed or cancelled flight. Through their claims process they make sure to be thorough and provide any necessary information that may help you receive compensation. To keep your information safe and secure, all dealings with Flightclaimseu.com is strictly done under this banner and will only be used for resolving your claim.
Not only do they deal with delayed and canceled flight claims, but Flightclaimseu.com also has a baggage claim service and a tax claim service. Through these you can earn extra compensation by declaring any baggage or luggage lost during a flight as well as using unused tickets due to a delayed or cancelled flight for a tax break.
The claims resolution time for Flightclaimseu.com is a little faster than other places which gets you any possible compensation faster, and they will only charge you if win any money. That being said, they do not guarantee that you will receive any compensation, but due to their positive reviews of handling claims, it is likely that if you are owed, you will get it.
Their website is easy to use and provides answers to any questions you may have, including how to file a claim and the steps it takes to process it. They also provide extra information to all their services. Flightclaimseu.com differentiates itself thanks to the extra services and extra steps they take to provide you with any compensation you may be owed.
Other things to know about Flightclaimeu.com
Flightclaimseu is part of the CCN which is based in The Netherlands.
Received compensation can range from €250 to €600.
Compensation fee is 25% of overall money received, but will not charge you if no compensation is won.
Average time it takes to receive compensation is two months.
Has other services besides claiming flight compensation.
Provides no guarantee that compensation will be won.
Website functions in a dozen different languages.
Part of the CCN. This allows them to have specialized legal counsel.

Provides not just flight compensation, but baggage compensation and a tax refund for unused or cancelled tickets.

Average compensation claim takes two months to resolve.
Does not cover extreme weather conditions.

No guarantee that you will receive compensation.

Can only contact Flightclaimseu through email.
Flightclaimeu.com
flight compensation
Mid ranged flights
Flights from 1500 km to 3500 km
Long flights
Flights more than 3500 km
When are you entitled to EU flight compensation?
EC Regulation Number 261/2004 establishes common rules for passenger compensation aid for flight delays in the European Union countries. These rules state that passengers are to be given compensation if their flight was departing or arriving in EU and was delayed due to airline's fault. Compensation is given to a passenger who has experienced a delay of more than 3 hours. A flight delay in general can be any delay, though in order to qualify for compensation, the delay must put you at your final destination more than 3 hours late. A canceled flight is considered eligible for compensation if it was cancelled less than 14 days before scheduled departure date. Bellow you will find the most common airline's faults:
Airplane Technical Issues
If the airplane has mechanical or technical issues, such as faulty landing gear or questionable control systems, then the airplane is considered to have technical errors, and is not safe to proceed with the flight.
Airplane Rotation
Rotation situations involve the plane arriving late from its previous destination. This offsets the time it departs on its next scheduled flight route.
Operational Issues
Operational issues can include anything having to do with the planning of the flight. This normally involves route planning, but it could include other technicalities that affect the operation of the plane.
Other
The law provides some level of flexibility here, since there are other scenarios where the flight may not be able to proceed. These reasons are not always foreseeable, therefore hard to document specifics.
When are you not entitled to EU flight compensation?
There are certain circumstances where the airline is not responsible for flight disruptions. If the airline is not responsible, then passengers do not qualify for compensation.
Delayed for Less Than 3 Hours
If you flight was delayed, but you still made it to your final destination in less than 3 hours late, then you do not qualify for compensation.
Flight Canceled More Than 14 Days Ago
A canceled flight is not considered eligible for compensation if it was cancelled more than 14 days before scheduled departure date.
Airplane Manufacturing Flaws
Manufacturing flaws in the aircraft is considered to be no fault of the airline. Under these conditions, no compensation is required.
Bad Weather Conditions
If it is determined to be unsafe for the aircraft to depart, the airline is not at fault and compensation is not required.
Strikes and Incidents
Strikes are not considered the fault of the airline; therefore, compensation benefits do not apply.
Non-EU Flight/Operator
If your flight carrier isn't registered in the EU, the flight does not qualify for compensation.
Flightclaimeu.com FAQ
What are the fees of FlightClaimEU's services?
Scott Welsch
2020-01-09T01:37:21+00:00
FlightClaimEU provides its services on a 'no cure – no pay' basis. This means we only charge for our services if we succeed in the claims procedure – otherwise, you do not have to pay us. This applies to all our services except for Second Opinion, for which we only charge a €25 flat fee in return for the advice provided.
You will receive 75% of the funds provided by the airline, minus a €25 administration flat fee per passenger. When we are unable to claim funds your behalf, we do not charge for our services, and a situation where you pay more than what was claimed cannot occur.*
An example calculation is provided below:
Airline compensation: €600
Passengers: 3
You receive: 3 x 600 x 0.75 – 3 x 25 = €1275
Even in cases where a paid court procedure is initiated, FlightClaimEU will guarantee to cover all costs in the rare event that the case is lost. When the case is won, the airline is obligated to bear all legal costs brought forward by the proceedings.