FlightClaimEU is a subsidiary of CCN (Claims Corporation Network) Aviation. They have made it their desire to allow air travelers to know their passengers rights and provide services that reflect this desire. They have many different services that will enable them to represent clients for flight compensation, among other things.
Although just a trademark of the CCN, FlightClaimEU handles all of its clients through the FlightClaimEU website allowing for personalized service. Any data provided will only be used by the FlightClaimEU service and nowhere else.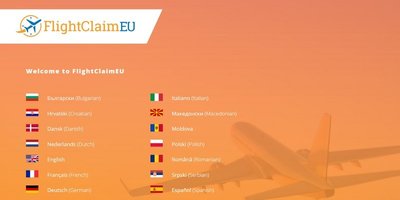 Flightclaimeu.com overview
| OVERALL RANK: | #9 out of 34 |
| --- | --- |
| OUR RATING: | 3.5/5 |
| USABILITY: | Very Easy To use |
| AVERAGE COMPENSATION: | 301€ |
| SERVICE COST: | 25% |
| AVERAGE COMPENSATION TIME: | 8-12 weeks |
| LANGUAGES: | 17 |
| REVIEWS: | 0% are five star "Excellent" reviews |
| OFFICIAL WEBSITE: | Flightclaimeu.com |
Our Flightclaimeu.com review
Since FlightClaimEU is a part of CCN Aviation, they have access to resources that other flight compensation companies may not. They have their own supply of legal counsel and lawyers who can help you receive any compensation you may be owed due to a delayed or cancelled flight. Through their claims process, they make sure to be thorough and provide any necessary information that may help you receive compensation.
Not only do they deal with delayed and canceled flight claims, but FlightClaimEU also has a baggage claim service and a tax claim service. Through these, you can earn extra compensation by declaring any baggage or luggage lost during a flight as well as using unused tickets due to a delayed or cancelled flight for a tax break.
The claims resolution time for FlightClaimEU is a little faster than other places, which gets you any possible compensation more quickly, and they will only charge you if they win the claims. That being said, they do not guarantee that you will receive any compensation, but due to their positive reviews of handling claims, it is likely that if you are owed by the airlines, you will get compensated.
Their website is easy to use and provides answers to any questions you may have, including how to file a claim and the steps it takes to process it. They also provide extra information about all their services. FlightClaimEU differentiates itself thanks to the additional services and extra efforts they take to give you any compensation you may be owed.
Other things to know about Flightclaimeu.com
Flightclaimseu is part of the CCN which is based in The Netherlands.
Received compensation can range from €250 to €600.
Compensation fee is 25% of overall money received, but will not charge you if no compensation is won.
Average time it takes to receive compensation is two months.
Has other services besides claiming flight compensation.
Provides no guarantee that compensation will be won.
Website functions in a dozen different languages.
Part of the CCN. This allows them to have specialized legal counsel.

Provides not just flight compensation, but baggage compensation and a tax refund for unused or cancelled tickets.

Average compensation claim takes two months to resolve.
Does not cover extreme weather conditions.

No guarantee that you will receive compensation.

Can only contact Flightclaimseu through email.
Flightclaimeu.com flight compensation
Mid ranged flights
Flights from 1500 km to 3500 km
Long flights
Flights more than 3500 km
Flightclaimeu.com fee
Flightclaimeu.com FAQ
I bought a non-refundable ticket. Can I still get a tax refund?
Scott Welsch
2020-01-09T01:41:32+00:00
The price you pay for a flight booking is a net price which, in almost all cases, already includes local taxes. It is only the price before the airport taxes that the airline is in the position to make non-refundable. This means that taxes paid as part of the booking are fully recoverable in all cases of unused tickets, even if the ticket is marketed as being non-refundable.