IfDelayed.com is out of business again.
Ifdelayed.com was a flight compensation company that worked to get you compensated for cancelled, overbooked, and delayed flights within the European Union under the Flight Compensation Act of 2004. IfDelayed could also open cases for flights that happened up to six years ago, and under the Flight Compensation Act, you may be eligible for up to €600 in compensation.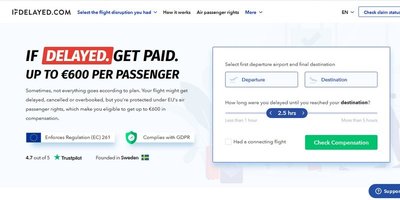 Ifdelayed.com was founded in Sweden and is a highly reviewed flight compensation company. It does not cost anything to begin a claim, and they only charge their fee if they were successful in getting you compensated.
Ifdelayed.com overview
| OVERALL RANK: | #31 out of 34 |
| --- | --- |
| OUR RATING: | 1/5 |
| USABILITY: | Not working |
| AVERAGE COMPENSATION: | 308€ |
| SERVICE COST: | 30% |
| AVERAGE COMPENSATION TIME: | 8-16 weeks |
| LANGUAGES: | 2 |
| REVIEWS: | 9.1 out of 10 on TrustPilot |
| OFFICIAL WEBSITE: | Ifdelayed.com |
Our Ifdelayed.com review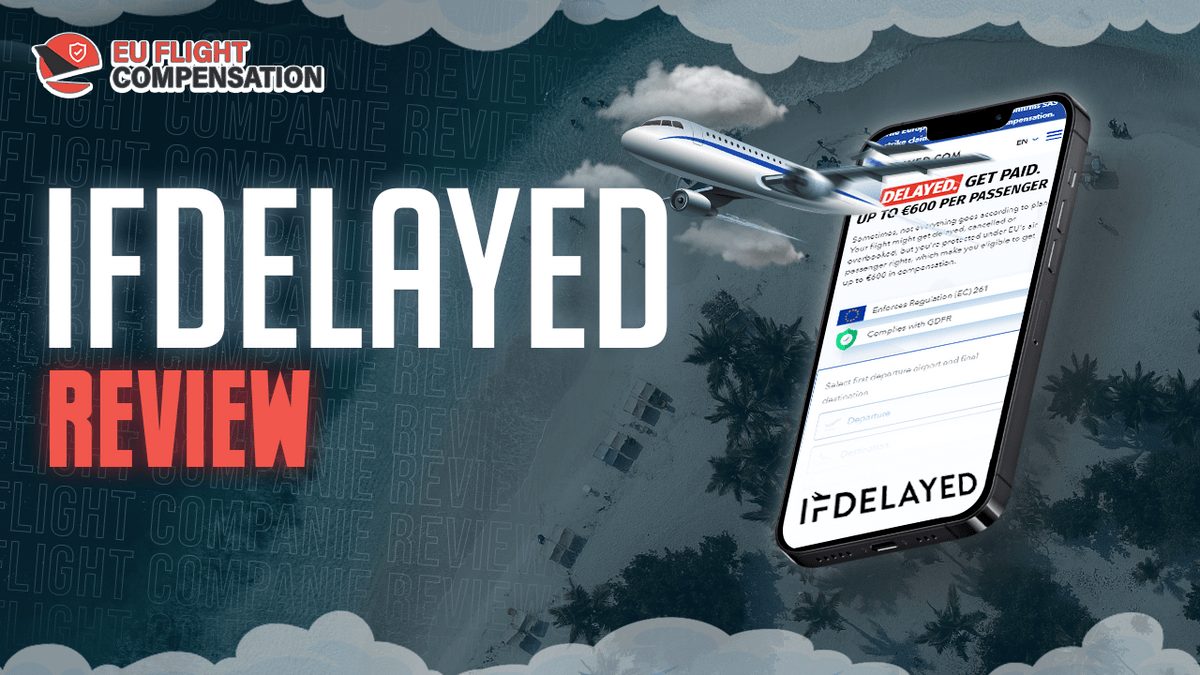 IfDelayed is a highly reviewed and appreciated flight compensation company. While some reviewers mentioned that they would prefer a more straightforward website with more correspondence and updates, most of their customers are happy with the simplicity and efficiency of the service offered by IfDelayed. In 2018 as a response to some of their customers requests for more updates, IfDelayed launched a customer portal that makes it easier to access information and updates on the progress of each claim. They say that they strive to keep you updated with information about the claim as soon as they become aware, and if there are any further questions, they are accessible through many forms of communication and social media platforms.
Airlines lose money when they have to pay out for flight delays, so they try to make the process difficult and demanding for the average passenger. Companies like IfDelayed make this process simpler and faster and will only charge you their fee if they successfully win your compensation from the airlines. IfDelayed is an industry leader, and they work hard to ensure their customers are satisfied, which is reflected in their extremely high customer feedback ratings. Generally, it takes them 1 to 10 weeks to get in touch with airlines, but if airlines refuse to compensate IfDelayed will continue with the case and take them to court on your behalf. They continue to use all of their time and resources at no charge to the customer until they have secured compensation from airlines.
Other things to know about Ifdelayed.com:
IfDelayed was founded in Sweden.
IfDelayed charges a fee of 30% including the Value Added Tax. Their commission is the same every time.
IfDelayed has been featured on Dagens Industri, Travel News, Expressen, Breakit, Aftonbladet, and Sveriges radio.
IfDelayed is easy to contact. They are available through their helpline, website chat, email, postal address, and in person at their headquarters in Stockholm, Sweden.

IfDelayed has a score of 9.1 out of 10 on Trustpilot, and 4.9 out of 5 on Facebook.

They have dealt with each airline and provide information about every airline's process on their website.

IfDelayed works as efficiently as they can to get claims and compensation sorted.
Reviewers say that their website is not user friendly enough, and they are not able to make any edits to claims.

They are sometimes slow to respond.

If the compensation is not paid in Euro, there will be a currency exchange fee.
Ifdelayed.com flight compensation
Mid ranged flights
Flights from 1500 km to 3500 km
Long flights
Flights more than 3500 km
Ifdelayed.com fee
Ifdelayed.com FAQ
The reasons for my flight delay/cancellation are not listed in these FAQs and I wonder if I can get EU flight compensation. How can I contact Ifdelayed?
Scott Welsch
2020-01-08T02:32:51+00:00
If you haven't found the answer in our database, and you are not sure about your eligibility for compensation – fill out our claim form, or can reach us via the following channels and we will help you with your questions:
Call our helpline on +46200 – 883 883 (open weekdays between 08.30-17.00 CEST);
Use our chat on the website (open weekdays between 08.30-17.00 CEST);
Send us an email via support@ifdelayed.com;
Send us regular mail to our postal address Box 7550, 103 93 Stockholm, Sweden;
Swing by our HQ for a coffee at Kungsgatan 28 in Stockholm, Sweden.