Travelrefund.com works with you to understand if you deserve compensation based on a delayed, overbooked, or cancelled flight. When working with Travelrefund.com, you could get up to €600 per passenger, making a huge difference, especially if you have to incur additional costs. It's free to check, so there's no reason not to check out Travelrefund.com.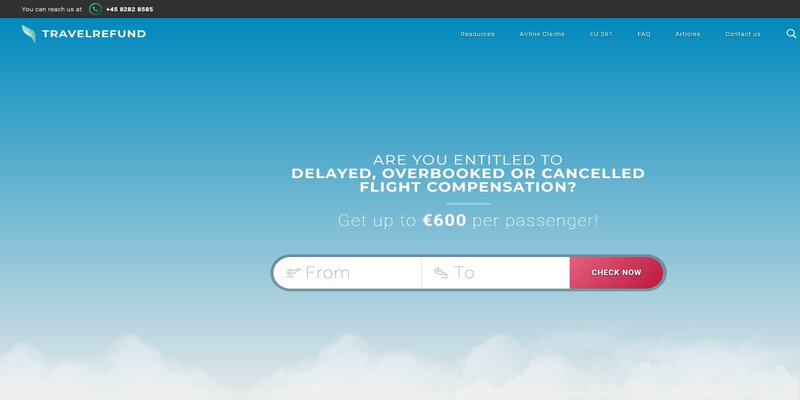 Travelrefund.com is based in Copenhagen, Denmark, and they serve clients throughout the EU and beyond. As long as your flight took off – or was supposed to take off – in the EU, then you may be entitled to compensation, and their team of legal experts and debt collectors are here to help.
Travelrefund.com overview
| OVERALL RANK: | #17 out of 34 |
| --- | --- |
| OUR RATING: | 3.5/5 |
| USABILITY: | Easy to use |
| AVERAGE COMPENSATION: | 304€ |
| SERVICE COST: | 19.8% |
| AVERAGE COMPENSATION TIME: | 8-16 weeks |
| LANGUAGES: | 1 |
| OFFICIAL WEBSITE: | Travelrefund.com |
Our Travelrefund.com review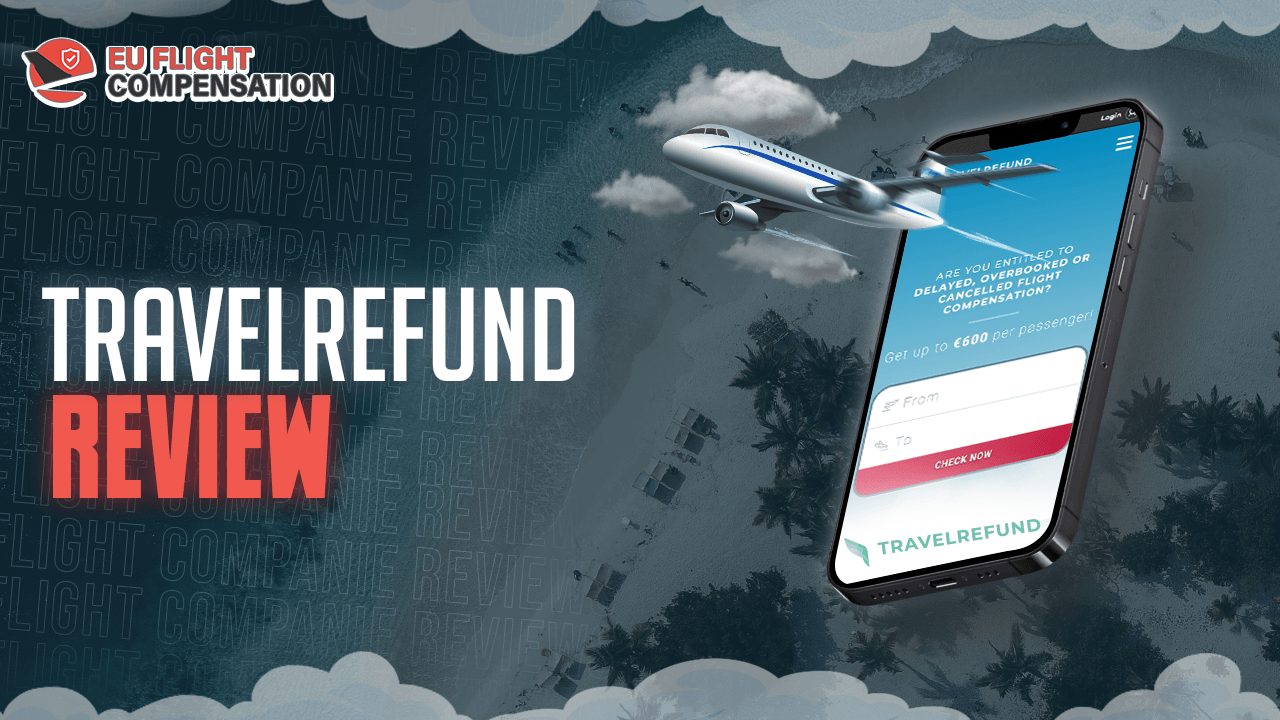 Travelrefund.com helps fight on your behalf to get you reimbursement for flight delays, cancellations, and denied boarding. They know what they're doing because they are authorized EU flight delay compensation representatives, which helps you get your money faster. That just means that the national police authorize Travelrefund.com to carry out debt collection, which is precisely what they're doing on your behalf. The airlines owe you, and it's time for them to pay up!
If your airline took off in the EU, fill out a claim with Travelrefund.com. It's free and easy, and if accepted, Travelrefund.com will do all the hard work to get you paid. Most claims take up to 12 weeks to payout, while some, more complex cases, take longer. If you don't win, you do not have to pay Travelrefund.com anything. However, when Travelrefund.com wins your case, they charge a 19.8 percent commission.
Customers report that Travelrefund.com is easy to work with. They faced very few problems once they partnered with the professionals to see the case through. Their claims were processed quickly, sometimes within two weeks. They work with clients all over the world who have faced issues with air travel that originated in the EU.
Other things to know about Travelrefund.com
Travelrefund.com has a chat feature available so that you can ask your questions in real-time. They only offer their services in English but serve clients worldwide.
Travelrefund.com is part of HornskovVindberg®, one of Denmark's largest collection agencies. They know how to advocate on your behalf and receive settlements commensurate with your inconvenience based on several different factors.
All of Travelrefund.com's claims are handled by ACEA Law, one of Europe's leading law firms specializing in flight delay compensation.
Travelrefund.com offers a full suite of services, so regardless of whether your flight was delayed, cancelled, or bumped, they can help you get the compensation you are entitled to under EU law.

Their commission is under industry standards, at just 19.8 percent, helping you take home more of the money you deserve home with you.

You have various ways to connect with Travelrefund.com's customer service should you have any questions, including via chat, phone, and email.
Travelrefund.com only offers services in English.

They don't offer independent customer reviews through Trustpilot.

They don't share their success rate.
Travelrefund.com flight compensation
Mid ranged flights
Flights from 1500 km to 3500 km
Long flights
Flights more than 3500 km
Travelrefund.com fee
Travelrefund.com FAQ
What is Travelrefund.com?
Scott Welsch
2022-05-17T03:56:07+01:00
Travelrefund.com is a flight compensation company based in Denmark dedicated to helping you get reimbursed up to €600 based on EU disturbed flight regulations.