Refundmyticket.net offers flight compensation services to customers whose flights have been delayed, cancelled, or overbooked. Their clients can receive up to €600 based on EU regulations, but airlines make it difficult to pursue their claims. With just a quick form, Refundmyticket.net will work on your behalf to make sure you get what you deserve.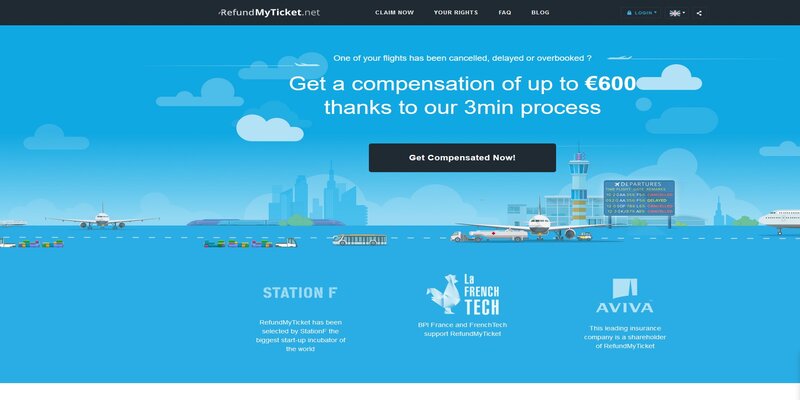 Refundmyticket.net was selected by Station F, the biggest start-up incubator in the world, and has received support from BPI France and FrenchTech for their work. Even Aviva, one of the world's leading insurance companies, is an investor, so they have strong industry support for their work.
Refundmyticket.net overview
| OVERALL RANK: | #16 out of 34 |
| --- | --- |
| OUR RATING: | 3.5/5 |
| USABILITY: | Easy to use |
| AVERAGE COMPENSATION: | 310€ |
| SERVICE COST: | 18% |
| AVERAGE COMPENSATION TIME: | 8-16 weeks |
| LANGUAGES: | 7 |
| REVIEWS: | 4.3 stars out of 5 on TrustPilot |
| OFFICIAL WEBSITE: | Refundmyticket.net |
Our Refundmyticket.net review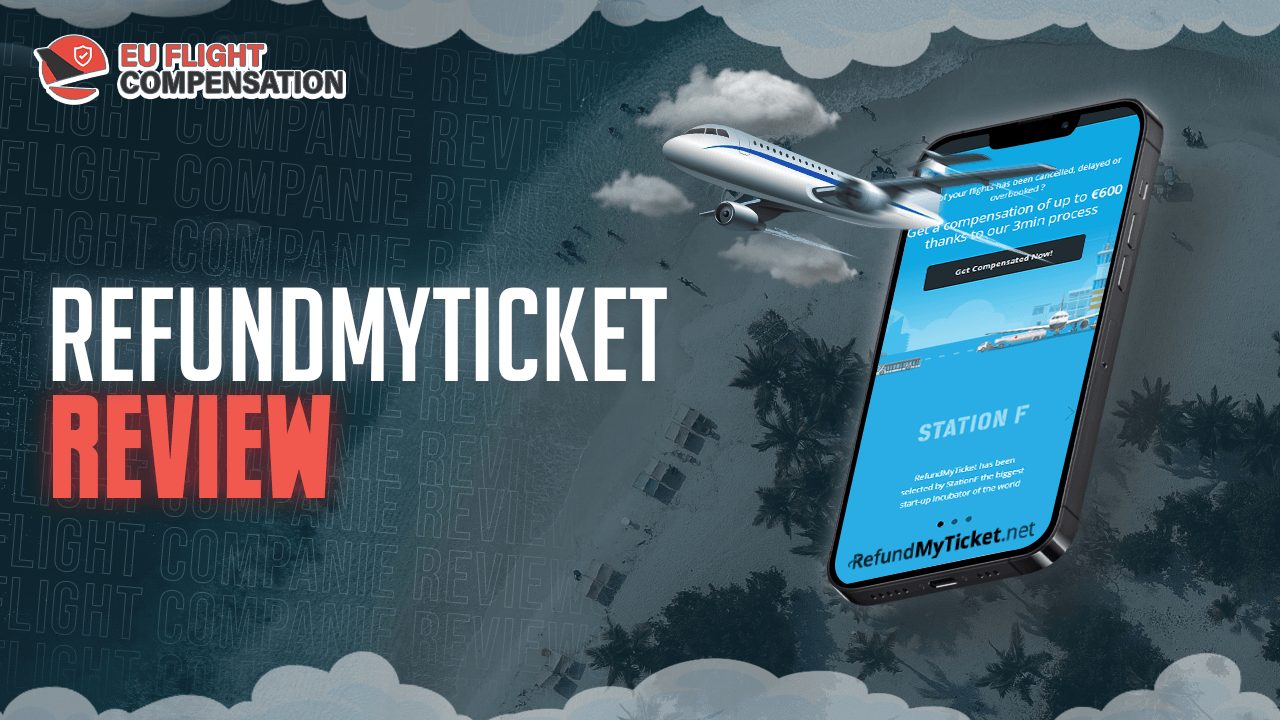 Refundmyticket.net is well versed in flight compensation regulations, ensuring you get the support you need. They have a network of international lawyers on call who look through your case, taking it to trial if needed. They help with flights that are cancelled, delayed, or overbooked. In some cases, they will also help recoup damages for their inconveniences.
Refundmyticket.net operates under a "no win, no fee basis," meaning you pay nothing unless they win your case. If they do, they charge an 18 percent compensation fee, which is much lower than the industry average. Their claims process takes up to 3 minutes. You simply fill out your information, and they will be in touch after your case is reviewed. Some cases can receive compensation in one week, while others can take up to a year. Contact their customer service if you have questions about your case.
As long as the airline is EU-based or you were scheduled to depart from the EU, customers can make claims no matter where they live. They have a very robust FAQ section that details various scenarios that can occur, so if you have questions about their services, check it out.
Other things to know about Refundmyticket.net
They have 5.5 stars on Facebook for their services with glowing customer testimonials about their work.
Refundmyticket.net helps with claims up to five years old.
Refundmyticket.net has support from various companies throughout France, including start-up incubator Station F, BPI France, and French Tech.
Insurance company Aviva is one of its investors.
Refundmyticket.net has been featured in various news outlets for its winning model, including Yahoo!, Express.co.uk, TravelDailyNews, the Daily Mirror, Booking.com, and Skyscanner.
Refundmyticket.net only charges an 18 percent commission fee, which is much lower than other companies.

They have media and industry support, which lends to its credibility.

Refundmyticket.net has been helping customers for more than eight years, making it one of the oldest flight compensation companies.

They cover delayed, cancelled, overbooked, and missed flights, as well as luggage issues.
They don't appear to offer services in languages other than English.

The payout can take up to a year if they need to take your case to court. However, you don't pay additional fees for these services.
Refundmyticket.net flight compensation
Mid ranged flights
Flights from 1500 km to 3500 km
Long flights
Flights more than 3500 km
Refundmyticket.net fee
Refundmyticket.net FAQ
What is Refundmyticket.net?
Scott Welsch
2022-05-17T02:26:52+01:00
Refundmyticket.net is a flight compensation company that helps customers worldwide receive the money they deserve for flight issues that occur in the EU.