Flightclaimshotline.co.uk is a United Kingdom-based flight compensation company dedicated to helping passengers know their rights and get compensation from airlines. Their legal experts advocate for passengers whose flights have been delayed, cancelled, and rerouted. They also help if you missed your connection because of a flight issue and are denied service.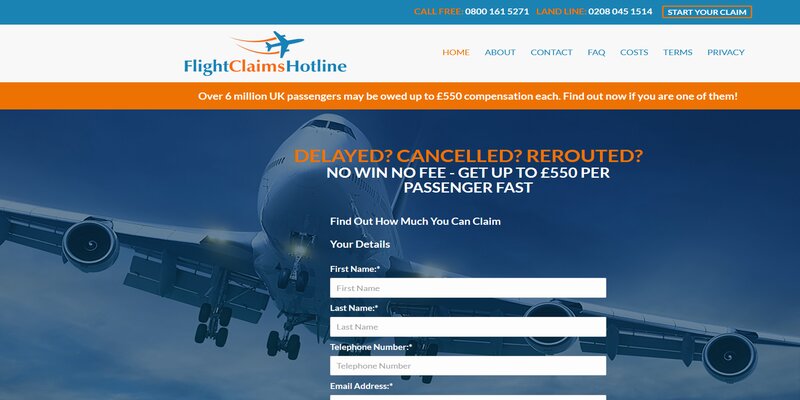 They were founded in 2016, and they help customers throughout the European Union. Despite being required to offer fixed compensation after delays of more than 3 hours or cancellations, many airlines do not. Flightclaimshotline.co.uk holds them accountable for getting you the money you deserve.
Flightclaimshotline.co.uk overview
| OVERALL RANK: | #15 out of 34 |
| --- | --- |
| OUR RATING: | 3.5/5 |
| USABILITY: | Easy to use |
| AVERAGE COMPENSATION: | 299€ |
| SERVICE COST: | 25% |
| AVERAGE COMPENSATION TIME: | 8-16 weeks |
| LANGUAGES: | 1 |
| OFFICIAL WEBSITE: | Flightclaimshotline.co.uk |
Our Flightclaimshotline.co.uk review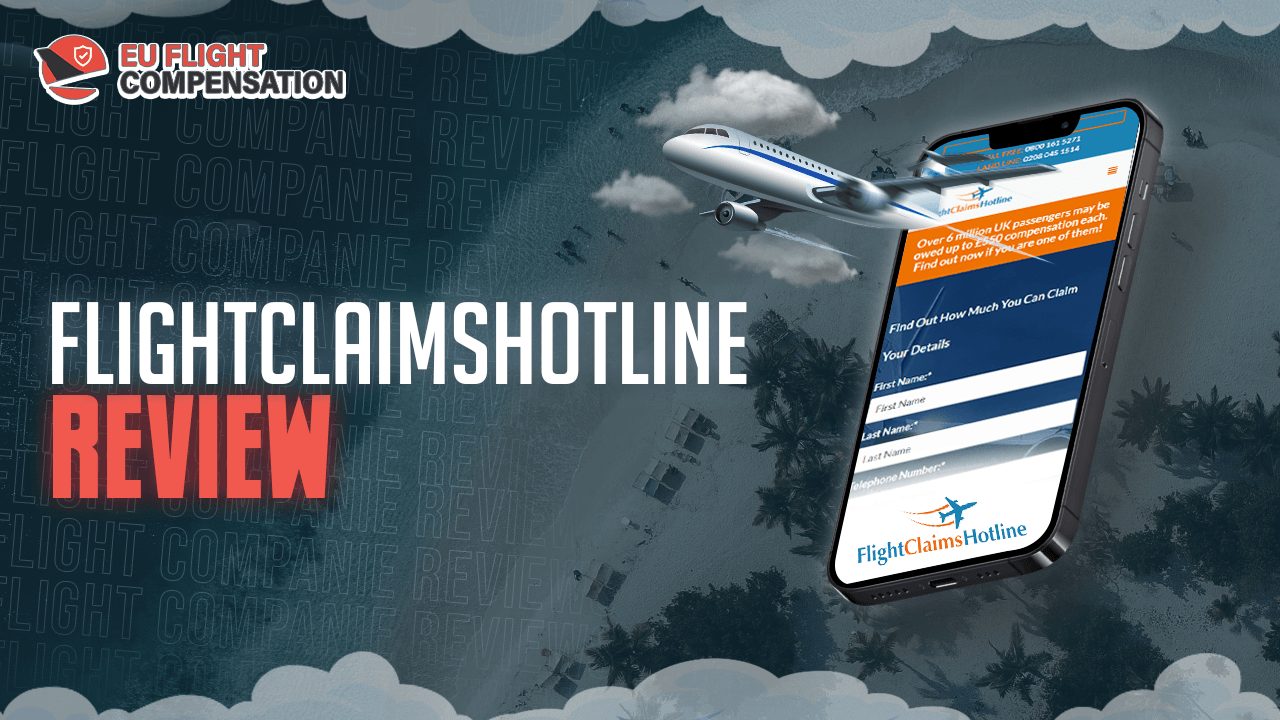 Flightclaimshotline.co.uk meets customers where they are, leveling the playing field with the big airline carriers to hold them financially accountable to their terms and conditions and EU regulations. Customers whose flights are delayed more than 3 hours, cancelled, or rerouted are entitled to compensation. If you missed a connection because of any of these issues or are denied boarding, they can also help.
Their process is simple – all you need to do is fill out a form with your information, including your name, contact information, and the reasons for your claim. Flightclaimshotline.co.uk will connect with you to let you know the outcome of their findings. If they take your case, you can receive compensation in as little as one week, though the average claim takes about 6-8 weeks. It depends on the airline and if they have to take it to trial.
Flightclaimshotline.co.uk charges a fixed fee, with a maximum of 25 percent, based on the actions they need to take on your behalf. They do not charge an additional fee to take it to court, though you pay a £25 administrative fee on top of the commission. You do not pay if you lose.
Other things to know about Flightclaimshotline.co.uk
Flightclaimshotline.co.uk advocates on your behalf because they know the loopholes that many airlines try to hide behind.
They only provide service in English, so if you need assistance in another language, it's best to seek other representation.
The average time to receive your compensation is 6-8 weeks, though it varies case by case.
They have a 5.5 Facebook rating from satisfied customers but do not have a TrustPilot account to verify they are unbiased reviews.
Flightclaimshotline.co.uk Pros
Along with their partner sites, Flightclaimshotline.co.uk reports a 98.5% success rate.

They only charge a maximum of 25 percent commission fee on your case, though the rate can vary based on the complexity of your case.

They serve customers throughout the EU, as long as they speak English.
Flightclaimshotline.co.uk Cons
Their customer service is responsive, with most queries answered within 72 hours; however, it's not personalized on a case-by-case basis.

They charge an additional £25 administrative fee on top of the performance-based commission.

There's no transparency on the lawyers who are part of Flightclaimshotline.co.uk's practice.
Flightclaimshotline.co.uk flight compensation
Mid ranged flights
Flights from 1500 km to 3500 km
Long flights
Flights more than 3500 km
Flightclaimshotline.co.uk fee
Flightclaimshotline.co.uk FAQ
What is Flightclaimshotline.co.uk?
Scott Welsch
2022-05-17T02:02:10+01:00
Flightclaimshotline.co.uk is a UK-based flight compensation company that helps clients across Europe receive compensation for cancelled, delayed, or rerouted flights, among other circumstances.