Flagito.eu is a flight compensation website that helps people get reimbursed for flight disruptions. Depending on the circumstances, these can include flight delays, cancellations, downgrading, and denied boardings. You are also eligible in the case of refunds and reimbursement. Based on the EU Regulation 261/2004, customers have a right to compensation of 250€, 400€, or 600€ depending on the circumstances, and Flagito.eu can help you with claims up to three years old.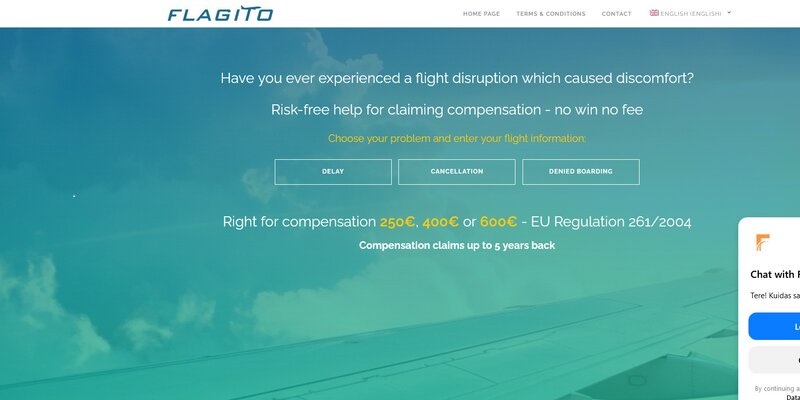 Their goal is to make the claim process fast and easy, raising awareness for passenger rights regarding disruptions in flights. They work on your behalf to hold airlines accountable for their own terms and conditions.
Flagito.eu overview
| OVERALL RANK: | #21 out of 34 |
| --- | --- |
| OUR RATING: | 3.5/5 |
| USABILITY: | Easy to use |
| AVERAGE COMPENSATION: | 314€ |
| SERVICE COST: | 30% |
| AVERAGE COMPENSATION TIME: | 8-14 weeks |
| LANGUAGES: | 4 |
| OFFICIAL WEBSITE: | Flagito.eu |
Our Flagito.eu review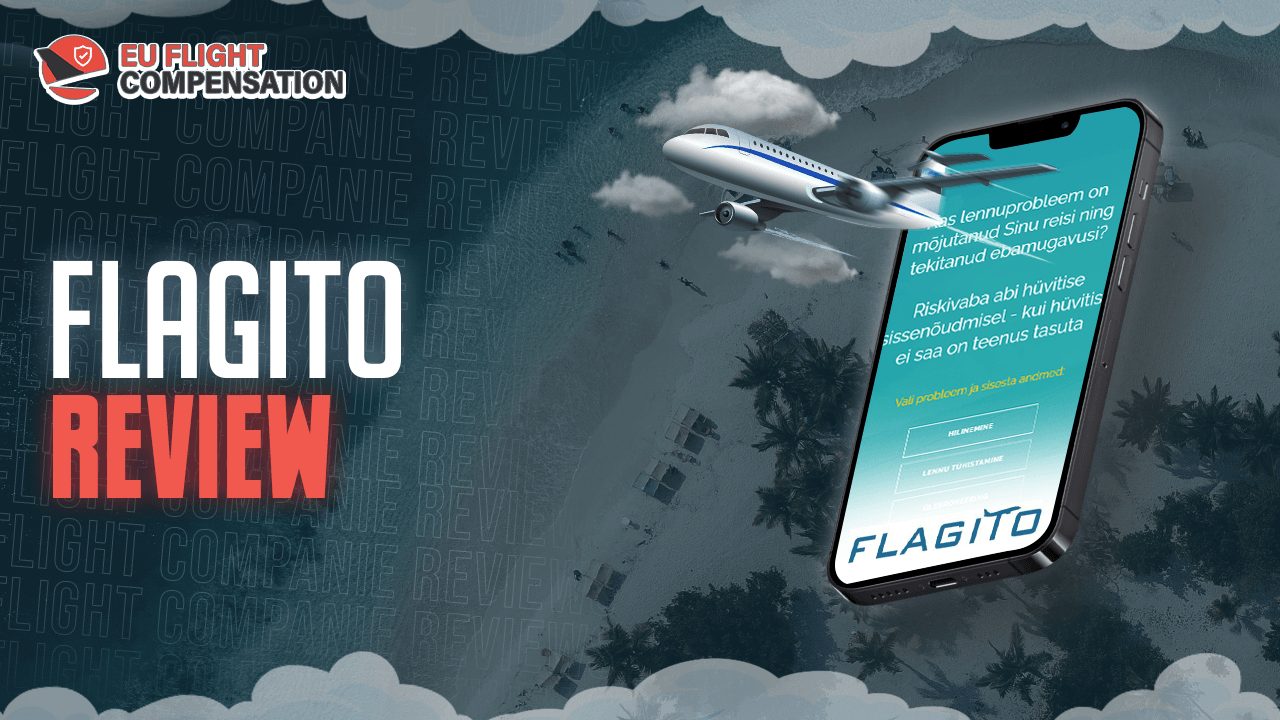 Flagito.eu is a legal services company based in Estonia specializing in passenger rights. They work on your behalf to fight for compensation when your flight is delayed or cancelled. They also represent clients who have been denied boarding and had their flight downgraded depending on the circumstances. Flagito.eu works throughout the European Union, and they help clients get compensation both with and without travel insurance.
Their three-step process is straightforward to use. All you need to do is enter your flight information for a free assessment. Flagito.eu's lawyers will assess the claim and get back to you if they believe you have a case. If you win your case, you will pay a 30% fee based on the settlement. If you do not win, you do not have to pay.
Customers reported that they were happy with the service they received from Flagito.com. They are responsive and communicative, keeping you informed at every step of the process. Some even report they received compensation within two weeks of contacting them, though that varies case by case depending on the airline's responsiveness.
Other things to know about Flagito.eu
The website is available in English, Estonian, Russian, and Finnish.
Flagito.eu have successfully argued cases throughout Europe, despite being based in Estonia.
Eligible compensation varies between EUR 250 and EUR 600.
Flagito.eu charges a 30% commission if they win the case. You pay nothing if you lose. In select cases, including ticket refunds and reimbursement of costs, Flagito will receive EUR 40 per passenger.
Flagito.eu has a team of legal experts based in Estonia. They have over five years of experience arguing on clients' behalf for flight compensation.

They offer a 30% commission on successful cases, which is on par with industry standards. They only take a cut if you win.

They work throughout the European Union.

The claim process has just three quick steps from start to finish.

They handle cases concerning flight delays, cancellations, refunds, downgrading, and denied boarding.
They are a smaller company with just a handful of employees.

There are few external customer reviews outside of their website.

No clear payment timeline is listed on their website.
Flagito.eu flight compensation
Mid ranged flights
Flights from 1500 km to 3500 km
Long flights
Flights more than 3500 km
Flagito.eu fee
Flagito.eu FAQ
What is Flagito.eu?
Scott Welsch
2022-05-14T04:49:20+01:00
Flagito.eu is a flight compensation website that lobbies on your behalf to receive payment for cancelled and delayed flights, as well as denied boarding and downgrades.