Euclaim is a claims handling website for claiming compensation from airlines for unexpected customer issues, such as cancellations or flight delays. According to legislation passed in 2004, airline customers are entitled to compensation in the case of airline delays or cancellations which inhibit these customers from reaching their destinations or connecting flights.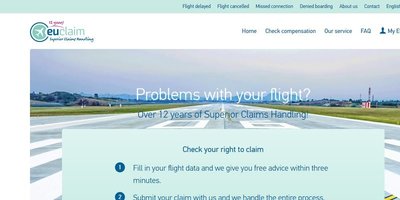 Unfortunately, these grievances are more and more common, and even more unfortunately, airlines are less willing to compensate customers that experience such events. Often, the verbiage is "extraordinary circumstances" occurred, and the airlines could not have helped the situation. But Euclaim claims otherwise, and will fight in court to get customers compensated.
Euclaim.co.uk overview
| OVERALL RANK: | #15 out of 24 |
| --- | --- |
| USABILITY: | Easy to use |
| AVERAGE COMPENSATION: | 320€ |
| SERVICE COST: | 25% |
| AVERAGE COMPENSATION TIME: | 8-14 weeks |
| LANGUAGES: | 3 |
| REVIEWS: | 76% are five star "Excellent" reviews |
| OFFICIAL WEBSITE: | Euclaim.co.uk |
Overall, Euclaim seems to be a mixed bag. They have a really nice website that is easy to interact with, they have many years of experience, and offer some of the best compensation. But, their administration fee really dampens the reviews they've received, and they've limited their customer base to only 3 of the 24 languages spoken in the European Union. That being said, in general, their results are very reliable and they win claims in court with almost complete certainty. Euclaim has won claims for over 500,000 passengers, and been doing so for over a decade. Despite the administration fee, choosing Euclaim as your claim handling provider will almost always result in money back in your pocket. There's no guarantee on timeframe, as there never is in the claims handling industry, however, with Euclaim's easy to interact with site, claim holders will be able to track the progress of their claims the whole way. Reliability, friendliness, and ease of communication are three of the pillars of which Euclaim has built their business. Choosing Euclaim would be a wise choice for anyone who wants transparency in the legal process and security in knowing that their claim is being handled with the utmost care.
Other things to know about Euclaim.co.uk
Compensation claims for up to €600, with most claims concluding within 6 months.
The cost of the service provided by Euclaim is 25% plus a €25 administration fee, however unsuccessful claims do not result in any cost.
Euclaim maintains at least three forms of communication: email, telephone, and website chat.
Reviews are mixed, with mostly happy customers, others upset about difficulties in communication.
Their website is simple to use, with a pleasing layout.
Euclaim offers three languages to customers: English, German, and Dutch.
Their biggest pro is by far their website layout and ability to answer initial inquires. With three forms of communication, there should be no reason to not get a response from one of the team members quickly.

They offer some of the highest compensation results compared to other claims companies.

They have over a decade of experience, much more than many other claims startups.

Euclaim has been mentioned on reputable business magazines.
Euclaim has some of the lowest rated reviews for an airline claims company.

Unlike many other claims companies, Euclaim charges an additional €25 fee for administration costs.

They lack language diversity, only offering three languages.
Euclaim.co.uk flight compensation
Mid ranged flights
Flights from 1500 km to 3500 km
Long flights
Flights more than 3500 km
Euclaim.co.uk fee
When are you entitled to EU flight compensation?
EC Regulation Number 261/2004 establishes common rules for passenger compensation aid for flight delays in the European Union countries. These rules state that passengers are to be given compensation if their flight was departing or arriving in EU and was delayed due to airline's fault. Compensation is given to a passenger who has experienced a delay of more than 3 hours. A flight delay in general can be any delay, though in order to qualify for compensation, the delay must put you at your final destination more than 3 hours late. A canceled flight is considered eligible for compensation if it was cancelled less than 14 days before scheduled departure date. Bellow you will find the most common airline's faults:
Airplane Technical Issues
If the airplane has mechanical or technical issues, such as faulty landing gear or questionable control systems, then the airplane is considered to have technical errors, and is not safe to proceed with the flight.
Airplane Rotation
Rotation situations involve the plane arriving late from its previous destination. This offsets the time it departs on its next scheduled flight route.
Operational Issues
Operational issues can include anything having to do with the planning of the flight. This normally involves route planning, but it could include other technicalities that affect the operation of the plane.
Other
The law provides some level of flexibility here, since there are other scenarios where the flight may not be able to proceed. These reasons are not always foreseeable, therefore hard to document specifics.
When are you not entitled to EU flight compensation?
There are certain circumstances where the airline is not responsible for flight disruptions. If the airline is not responsible, then passengers do not qualify for compensation.
Delayed for Less Than 3 Hours
If you flight was delayed, but you still made it to your final destination in less than 3 hours late, then you do not qualify for compensation.
Flight Canceled More Than 14 Days Ago
A canceled flight is not considered eligible for compensation if it was cancelled more than 14 days before scheduled departure date.
Airplane Manufacturing Flaws
Manufacturing flaws in the aircraft is considered to be no fault of the airline. Under these conditions, no compensation is required.
Bad Weather Conditions
If it is determined to be unsafe for the aircraft to depart, the airline is not at fault and compensation is not required.
Strikes and Incidents
Strikes are not considered the fault of the airline; therefore, compensation benefits do not apply.
Non-EU Flight/Operator
If your flight carrier isn't registered in the EU, the flight does not qualify for compensation.
Euclaim.co.uk FAQ
What if the airline offers to pay me directly or sends me a cheque?
Scott Welsch
2020-01-08T02:51:26+00:00
Always contact EUclaim before accepting any offers from the airline. If the airline pays you directly, you should contact us immediately. You can contact us by email or by sending a message via your online file. In accordance with article 6.7 of our Terms & Conditions, an invoice will be sent to you for our services.