Claimdon.com is a company that specializes in flight compensation, getting customers the money they deserve should their flight be delayed, cancelled, or overbooked. They also advocate for those who incurred additional expenses, including accommodation, transportation, food, and more. Affected customers are eligible to receive up to 600€, and Claimdon.com advocates on your behalf so you don't have to.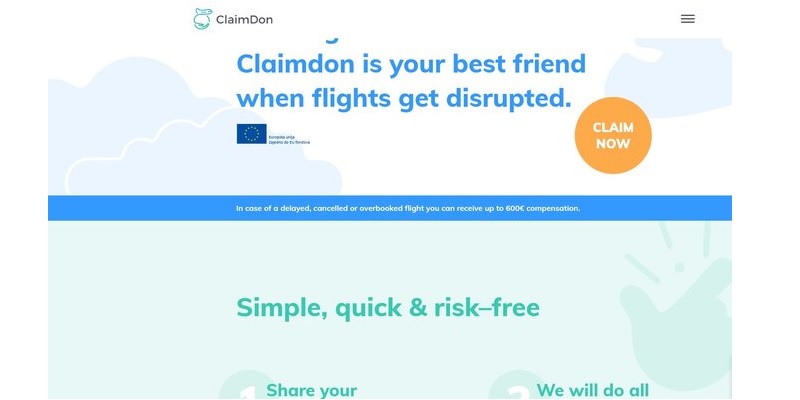 Unlike competitors, Claimdon.com donates a portion of its fee to the community. They only take a fee if you win, so there's little to risk when you hand your case over to Claimdon.com.
Claimdon.com overview
| OVERALL RANK: | #22 out of 34 |
| --- | --- |
| OUR RATING: | 3.5/5 |
| USABILITY: | Easy to use |
| AVERAGE COMPENSATION: | 308€ |
| SERVICE COST: | 25% |
| AVERAGE COMPENSATION TIME: | 8-16 weeks |
| LANGUAGES: | 2 |
| OFFICIAL WEBSITE: | Claimdon.com |
Our Claimdon.com review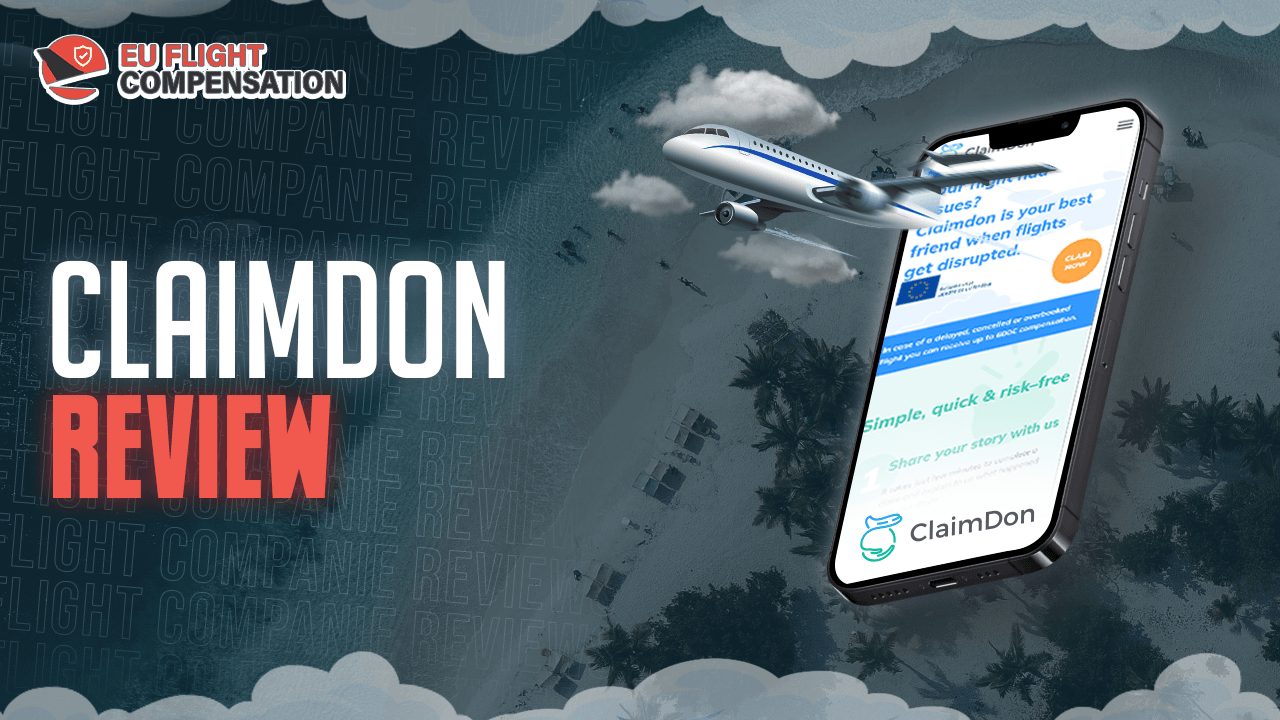 Claimdon.com serves as your advocate to EU airlines, ensuring you get the money you deserve when facing disruptions in your flight plans. These can be cancellations, delays, and overbooking, as well as all the expenses related to the original flight issue. Filing a claim is easy, with just three steps.
First, complete a simple form to help share your information. If your case is accepted, Claimdon.com will work on your behalf as your advocate against the airlines. Unlike other companies, Claimdon.com doesn't charge additional fees if they need to take the case to court. They only take a 25% commission if you win the case. There are no hidden fees.
What sets Claimdon.com apart from others in the industry is that they donate 5 percent of their fee to charitable causes – and you help direct where the money goes. They call it helping yourself as you help others, and it's worth checking out if you believe you're entitled to compensation.
The average time to process a claim through payout is three months, though it depends on the airline. If the case has to go to court, it will take longer.
Other things to know about Claimdon.com
ClaimDon.com has five years of experience and is based in Croatia. They work with clients based throughout the European Union. Depending on the country, you may claim damages between 1 to 10 years after the delayed flight.
On average, it takes about three months for you to receive your money, though this may vary.
They offer services in English and Croatian.
ClaimDon.com only charges a 25 percent fee, which is lower than the industry standard. They donate 5 percent of their fee to a charity of your choosing. If they do not win, you do not pay a fee.

They offer a free money transfer, so you won't pay additional fees to receive your compensation.

They have a FAQ page to help answer the most common inquiries they receive, and you can also get customer service via phone, email, and Facebook Messenger.
Claimdon.com does not offer customer reviews or testimonies about their services to help you decide.

They aren't active outside their website, which harms their credibility.
Claimdon.com flight compensation
Mid ranged flights
Flights from 1500 km to 3500 km
Long flights
Flights more than 3500 km
Claimdon.com fee
Claimdon.com FAQ
What is Claimdon.com?
Scott Welsch
2022-05-17T01:20:24+01:00
Claimdon.com is a Croatian flight compensation company dedicated to helping clients get money from airlines for common inconveniences, including delayed and cancelled flights.