AirCashback is European flight compensation company that prides itself on fighting for travelers who have faced flight delays or cancellations that were caused by airlines. When this happens, the passenger is entitled to some form of compensation, but it is a long legal process that people often do not want to get involved in.
This is where AirCashback comes in to fight for the passenger. After getting all the passenger's flight information, they will start the compensation proceedings and transfer the money to the passenger's bank account.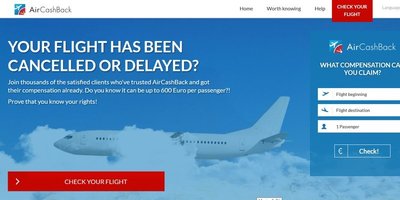 Aircashback.com overview
| OVERALL RANK: | #23 out of 34 |
| --- | --- |
| OUR RATING: | 3/5 |
| USABILITY: | Very easy to use |
| AVERAGE COMPENSATION: | 290€ |
| SERVICE COST: | 25% |
| AVERAGE COMPENSATION TIME: | 12-16 weeks |
| LANGUAGES: | 4 |
| REVIEWS: | 91% are five star "Excellent" reviews |
| OFFICIAL WEBSITE: | Aircashback.com |
Our Aircashback.com review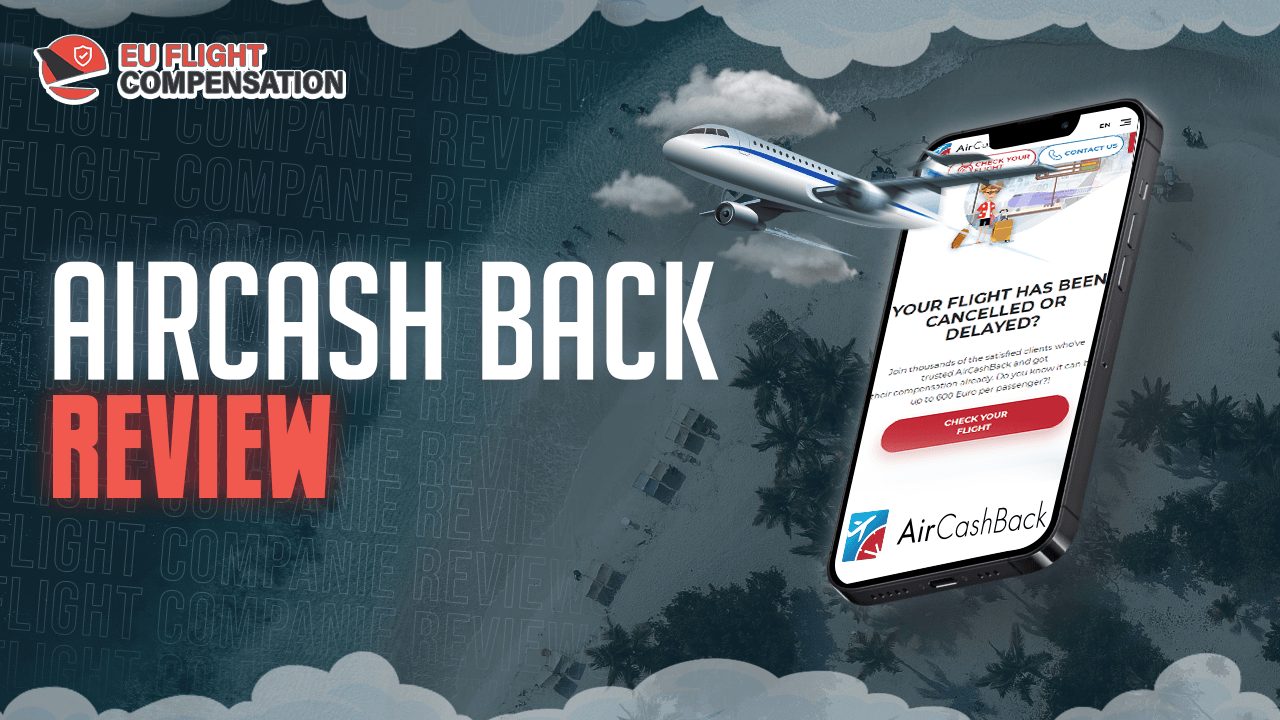 AirCashback seems to be a good option for travelers who have been stranded by their airlines or experienced some type of inconvenience due to an extreme delay. The company is located in Poland and speaks three languages: English, Polish, and Arabic. Although they only speak a few European languages, their claim system is easy to use. They claim it only takes one minute to fill out their form, which makes getting your refund much easier. However, some customers have complained that it can take a long time to get your refund while you wait for them to complete your case. They have a high commission at 25%, which seems like a big percentage of the money you would be getting back. However, you are still being given up to 75% of your flight costs back, which is a significant portion and much more than you would have gotten if you had not used their services. This is a good option for travelers to keep in mind because when using air travel these days, there is always a chance for delays, cancelations, or not being allowed on your flight for some reason.
Other things to know about Aircashback.com
Country: Located in Poland.
Success fee: 25% commission fee of the money you are awarded.
Average compensation time: Usually takes 8-12 weeks to be compensated.
Languages spoken: Polish, English, Arabic.
When it was established: 2013.
Overall reputation: Customers have mostly positive experiences with them.
Reviews from customers: Refunds often take a long time to be processed, sometimes almost up to a year. There were a couple reviews where people never got their refunds because AirCashback did not submit the paperwork properly, but those were very few reviews compared to the dozens of positive ones.
AirCashback offers a simple process for the customer with everything being handled by a professional.

They are a credible company that gets positive reviews from their customers.

They are efficient when claims are valid, and they get their customers refunds back.
AirCashback can occasionally take a long time processing the initial claim, this is especially true when the claims are questionable.

Their commission seems high at 25%, although most companies charge the same.

Their website first redirects customers to the Polish version, making it hard to navigate for most non-Polish customers.

This company does not speak a wide variety of European languages making this not available to everyone.
Aircashback.com flight compensation
Mid ranged flights
Flights from 1500 km to 3500 km
Long flights
Flights more than 3500 km
Aircashback.com fee
Aircashback.com FAQ
What steps will AirCashBack take after entering into a contract with me?
Scott Welsch
2020-01-08T02:58:16+00:00
Immediately after submitting your claim, we will send an email to you containing confirmation of receipt of your claim. We will then analyse your submission in detail and – should it be necessary –contact you to ask for more information. After verifying your claim, we will initiate compensation proceedings.
Upon successful completion of the proceedings, we will contact you again to inform you about the amount of the compensation. Finally, we will transfer your compensation less our fee to your bank account. If at any time in the course of the compensation process you are found non-eligible for compensation, we will immediately notify you of that fact.