Aeroisk is a smaller and younger flight claims company based out of Bulgaria. Like others of its kind it is dedicated to helping air travellers claim any possible compensation for things such as missed connections, cancelled or delayed flights. Their team consists of lawyers and economists with experience in aviation to help provide the best service possible when resolving flight claims.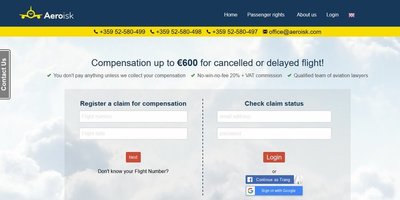 They also file customer claims in court directly instead of just emailing the airlines and hoping that they receive an answer back. They claim to have filed 250 court claims to date.
Aeroisk.com overview
| OVERALL RANK: | #28 out of 34 |
| --- | --- |
| OUR RATING: | 2.5/5 |
| USABILITY: | Not easy to use |
| AVERAGE COMPENSATION: | 320€ |
| SERVICE COST: | 25% + VAT |
| AVERAGE COMPENSATION TIME: | 8-14 weeks |
| LANGUAGES: | 3 |
| REVIEWS: | Haven't found any 3rd party reviews |
| OFFICIAL WEBSITE: | Aeroisk.com |
Our Aeroisk.com review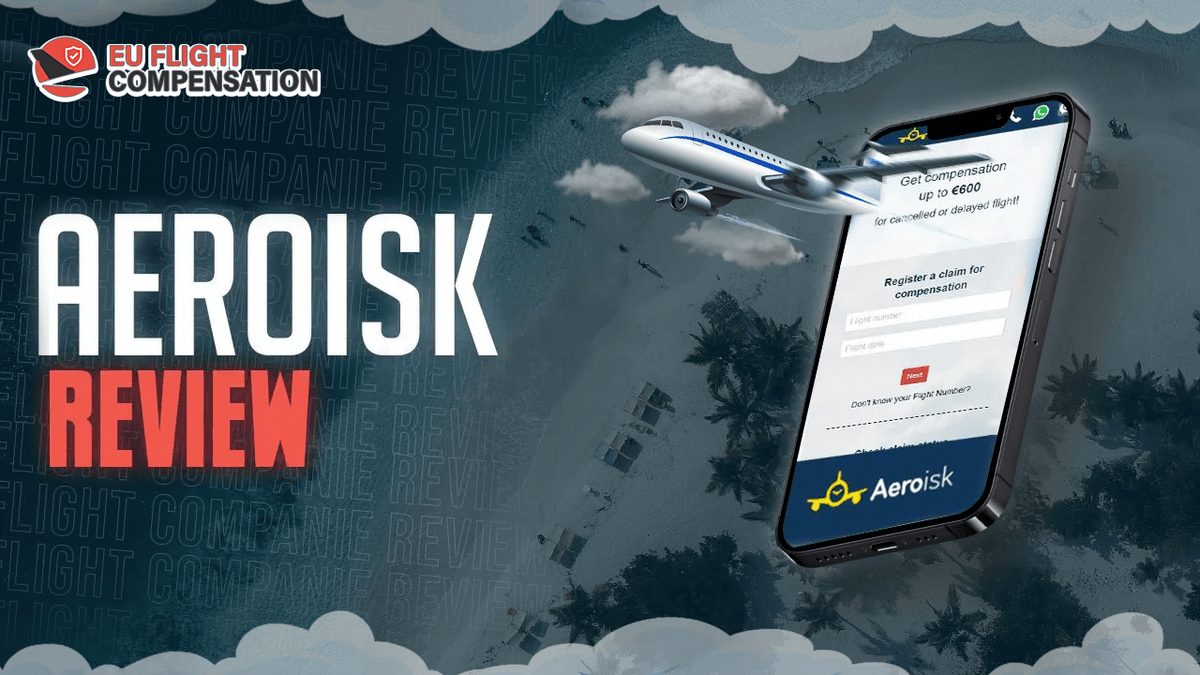 Even though Aeroisk is a relatively young company, they have been able to establish themselves as a good flight claims company and quite possibly the best one in Bulgaria. Their customer support is good, offering multiple ways of communication through email, phone and Facebook. On the other hand, their support isn't completely personalized and they do not have a separate blog to write about happenings or changes as other companies do. Also their website only supports English, Russian and Bulgarian, making it more difficult for others to use them to file a claim.
Their website is easy to use and goes into deep detail about how claims are calculated and what is covered. They use design and graphics to illustrate the most important points about how to file a claim and what is covered. This is probably in part to the fact that they use a team of lawyers and economists who are familiar with the aviation industry and are able to explain complicated issues in simpler terms. To submit a flight claim, Aeroisk uses an automated form and the website as well as the form itself are mobile friendly and the customer can also access the website to see the status of their compensation claim.
Despite being only a few years old, the customer reviews for Aeroisk are positive. Reviews grant praise to the team behind Aeroisk and how they worked hard to get the client the compensation they needed for their flight.
So if you are located in Bulgaria or near it, Aeroisk might be the company for you. They are new, but they know what they are doing and they have the advantage over other companies by having their own in-house lawyers and economists. Their website might be hit or miss depending on what features you are looking for, but their customer reviews and track record allow Aeroisk to be a company that can help anyone claim flight compensation.
Other things to know about Aeroisk.com
Based in Bulgaria, founded in 2016.
Website supports Russian, English and Bulgarian.
You only pay if you win compensation. Commision is 20% plus the Value Added Tax and compensation won is dependent on the distance of the flight.
Has a team of lawyers and economists, all with experience in the aviation industry.

Offers multiple ways of communication.

Highly rated among customer reviews.
A relatively young company.

Websites only supports three languages – English, Russian and Bulgarian.

Aeroisk does not say how long a claim could take.
Aeroisk.com flight compensation
Mid ranged flights
Flights from 1500 km to 3500 km
Long flights
Flights more than 3500 km
Aeroisk.com fee
Aeroisk.com FAQ
What is Aeroisk?
Scott Welsch
2022-05-17T14:04:57+01:00
Aeroisk is a Bulgarian-based flight compensation company. While newer, they've successfully settled more than 250 court cases to date, helping ensure their customers are served.