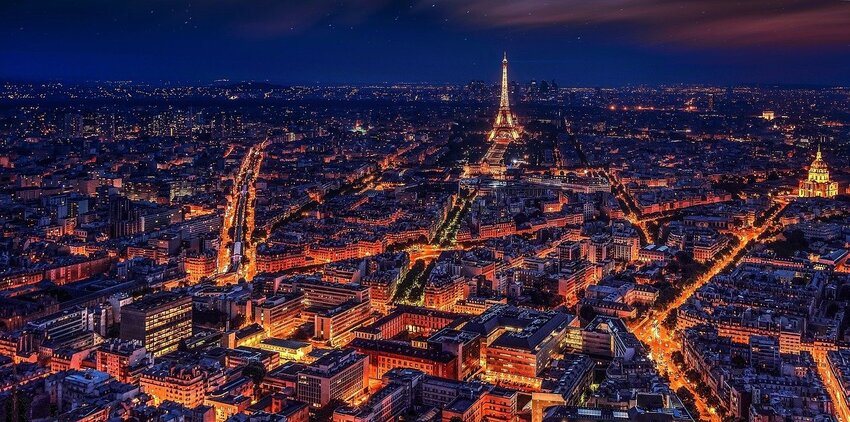 Frazzled, tired, and ready to be home at the end of your trip, and suddenly, you get delayed. So now what? The frustration of having to wait toting all your bags, finding something to do to kill the time, and issues of potential schedule disturbances back home start to set in. While all passengers hope that their flight schedules will go according to plan, issues with the airline and departing on time are common and irritating. At this point, waiting to see how your flight and potential connecting flights will be disturbed can be problem. But did you know you could be eligible for financial compensation under European Regulation? Your time is worth something, and doing research to find out which compensation company will best help you get your deserved cash is worth searching for.
In France, if your flight is over three hours late you are eligible to claim compensation for your delay. Just like with anything else that has a payout at the end, there will be some hoops to jump through. It will be helpful to you to make sure that you have all your own documentation (i.e. original travel information or itinerary & new itinerary) to prove how long you were delayed. Since the airliners are aware of this law you can be sure that they will do everything they can to not provide a payout. Flight compensation companies know all the rules and rabbit holes of the business to ultimately provide you with the payment in which you are entitled. For this reason, we have put together a list of the best flight compensation companies in France.
10 Best Flight Delay Compensation Companies in France of June 2023
| Company | France Supported | Average Claim | Success Fee | Time frame | |
| --- | --- | --- | --- | --- | --- |
| | ✔️ | 322€ | 75€ – 180€ | 6 – 12 weeks | |
| | ✔️ | 318€ | 88€ – 210€ | 8 – 14 weeks | |
| | ✔️ | 300€ | 88€ – 210€ | 8 – 16 weeks | |
| | ✔️ | 312€ | 73€ – 174€ | 10 – 16 weeks | |
| | ✔️ | 314€ | 75€ – 180€ | 8 – 16 weeks | |
| | ✔️ | 308€ | 63€ – 150€ | 8 – 16 weeks | |
| | ✔️ | 310€ | 75€ – 180€ | 8 – 14 weeks | |
| | ✔️ | 303€ | 75€ – 180€ | 10 – 12 weeks | |
| | ✔️ | 301€ | 63€ – 150€ | 8 – 12 weeks | |
| | ✔️ | 298€ | 75€ – 180€ | 8 – 16 weeks | |
Pick the Best Flight Delay Compensation Company in France and Get up to €600!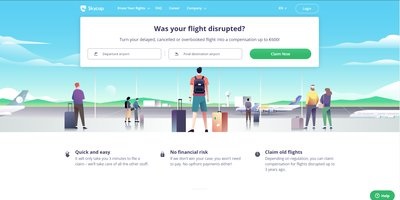 Ranks #1 out of 34 flight compensation companies
Overall, Skycop provides a lot of information and a streamlined process for getting compensation from airlines. They pride themselves on getting people the money that they are owed, and their customer service and amount of people that they have successfully served provides a tangible reflection of this passion. Skycop has a very informative and secure website that explains the process and what it may entail very well. Their staff and willing to work through several months of claims and negotiations to get results, and past customers say they do this patiently and graciously. Skycop provides all the information you need to decide if you want to use their company to claim compensation from airlines. They have low commissions, but they put plenty of time and effort into the process that would otherwise take months of further disruption to your life and schedule. They make it worth it to open a claim and begin the process to see if you can get anything back your disrupted travel experience.
Claim your compensation with Skycop here
or Read our full Skycop review
Ranks #2 out of 34 flight compensation companies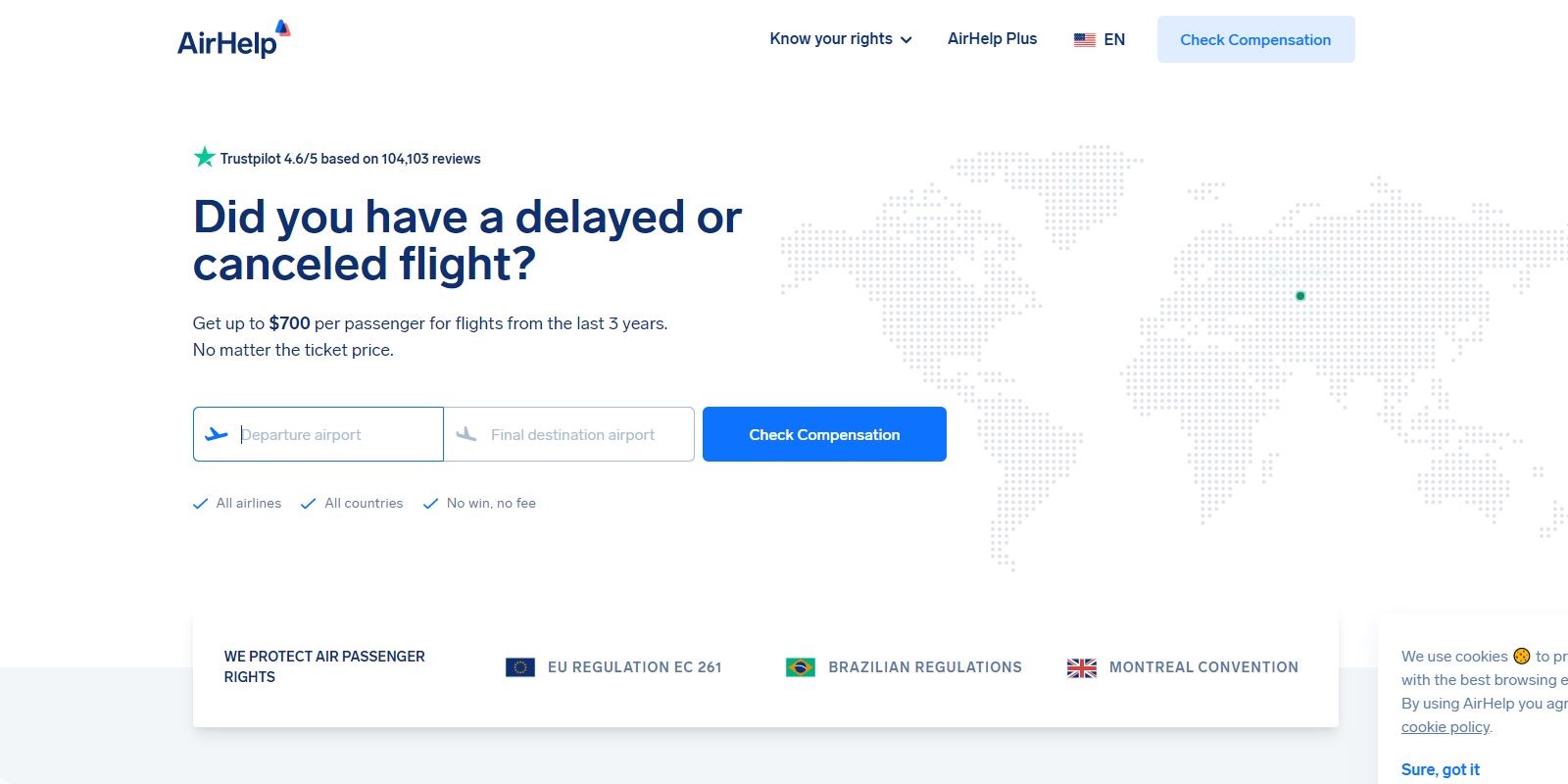 AirHelp claims to be the leading travel compensation site for airline cancellations, delays, and overbooking. They have been reviewed on over 70,000 occasions and have maintained a rating above 9/10, which is impressive for any business. Their compensation amounts are higher than other airline compensation sites while maintaining the industry standard 35% success fee, which is completely risk free. It's clear that the team members at AirHelp are knowledgeable, and on their "About Us" page, potential customers can see and learn a bit about who will be managing their claim. With such a soundtrack record, AirHelp will deliver exceptional service and provide the most compensation possible, all while customers sit back and let the team take all of the time out of the claim process. Also, when airlines deal with individual customer claims, they are less likely to compensate on time and are more willing to let the issue go to court. However, when they are repeatedly dealing with a renowned airline compensation firm, such as AirHelp, airlines will be more willing to compensate quickly.
Claim your compensation with AirHelp here
ClaimCompass is a professional and efficient company in the business of flight compensation. They are very highly reviewed on their website and generally applauded for being efficient, communicative, and overall an easy and effective service to make use of. Sometimes people are skeptical of the process of flight compensation, but ClaimCompass makes it easy to feel like you are getting the money you deserve with little hassle or headache.
ClaimCompass is responsive and will work as quickly as possible to get the claim and compensation taken care of. Some reviewers mention receiving compensation in as little as two weeks, and while each case is highly variable, this company seems to have a faster turnaround time compared to other company's reviews. They are available to interact with customers in many languages, so they are able to offer their services to a large percentage of the people who are flying within the European Union under these regulations.
Overall, ClaimCompass works efficiently on behalf of the passenger, and has staff with immense knowledge of the airline industry and regulations. They provide plenty of information, including ratings on each airline's flight compensation tendencies, so the customer has a good idea of what they are getting into. The more claims they are able to win, the more money they will make, so they are plenty motivated to get you the money you deserve to compensate for a bad flight experience in the European Union.
Claim your compensation with ClaimCompass here
or Read our full ClaimCompass review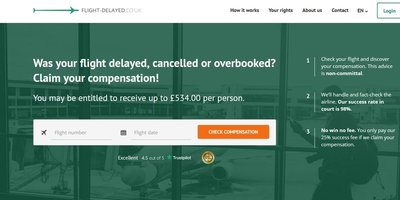 Ranks #4 out of 24 flight compensation companies
Overall, Flight-Delayed is a good choice of airline compensation sites. They do not have the highest volume, but that may mean more meaningful interaction with team members. Their high reviews and near-perfect success rate speak for the professionalism. And, at the least, their website is a good resource for learning about what rights customers have in cases of egregious airline conduct. As usual, you can count on Flight-Delayed to not waste your money, because they only take 29% of what the airline agrees to compensate, making each claim valuable to them. Reliability is by far their strongest asset. Unfortunately, flight cancellations and delays happen all too frequently, so having a sound airline compensation team is important. And while it can be difficult to choose an airline compensation provider when there are so many, Flight-Delayed will reliably offer each of their customers a sound legal experience and excellent compensation. If you can look past the lack of telephone correspondence and trust that Flight-Delayed will do all they can to win your compensation, then when you submit your claim through the team at Flight-Delayed, you can sit back and know that sometime within the next year your money will be rolling in.
Claim your compensation with Flight-Delayed here
or Read our full Flight-Delayed review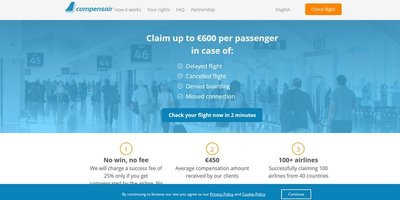 Ranks #5 out of 24 flight compensation companies
Compensair has dealt with 40 countries and hundreds of different airlines allowing it to have experience in getting a customer's claim, this is also doubly effective as they cover every country in the Eurpoean Union and a few outside it. Despite only having limited means of communication, Compensair is able to assist in five different languages and do respond quickly through the appropriate channels.
They are transparent about how they operate, which provides peace of mind to anyone wishing to use them. Their website is simple and laid out in a way that explains who they are, how they work and what it takes to get you compensation for your delayed or cancelled flight.
The customer reviews are overwhelmingly positive citing how easy Compensair's service was to use, as well as the friendliness of those working for them. Compensair's Facebook is also buzzing with activity and positive reviews, which shows they have a dedicated client base. While there may be a couple of small wrinkles, Compensair is a reliable company to claim any compensation you may be owed for your flight.
Claim your compensation with Compensair here
or Read our full Compensair review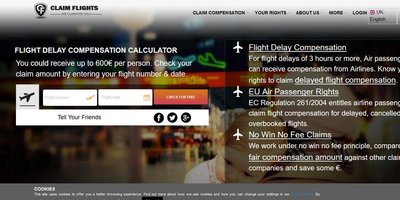 Ranks #6 out of 24 flight compensation companies
Overall, ClaimFlights looks like an exceptional compensation service. They fight on behalf of their clients based on European laws to get the compensation their customers deserve. They service an amazing seventy nine airlines, and forty airports across three continents. This global reach is a plus for any potential clients because it offers a wide number of both airlines and airports that could be covered under their claim. While their global reach goes as far as North American and Asian companies, the only problem is that claims can only be made in regards to these airlines if they either took off or landed in a European Union country. In addition, they do not speak all the different languages for the countries they service, so if the customer does not speak another language such as English or German, it will be hard for them to use the service. They have an almost 100% success rate and work on a "No Win No Fee" basis with no hidden costs which means it is free to use if you do not receive any compensation. They have 9.7 out of 10 stars on Trustpilot. ClaimFlights is a good option for customers looking to gain compensation from a much wider travel area than just within the UK or major European countries.
Claim your compensation with ClaimFlights here
or Read our full ClaimFlights review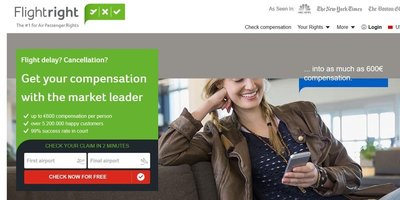 Ranks #7 out of 24 flight compensation companies
Flightright is a successful company that fights for travellers who have lost money, time, and peace of mind due to problems with air travel. These problems could be as simple as a delay over three hours, to as large as a flight cancelation or rebooking. Any one of these experiences can waste a lot of traveller's time and lead to further missed flights or reservations, or important events they are trying to get to. Flightright fights on behalf of the customers to get these funds back. They have a 99% success rate in fighting the airlines on behalf of the clients, with the possibility of fighting these claims up to six years after the traveler's flight. They have excellent reviews from notable sources such as the Wall Street Journal, NBC News, the Boston Globe, the Daily Telegraph, as well as many satisfied customers. They also work on behalf of their customers with a large selection of airlines and airports as long as the flight either took off or landed within a country in the European Union. The span of Flightright's reach in the airline world gives the opportunity to many customers to receive the refunds they deserve without having to fight the airlines themselves.
Claim your compensation with FlightRight here
or Read our full FlightRight review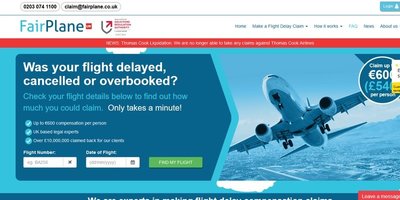 Ranks #8 out of 24 flight compensation companies
With it's dedicated lawyers, researchers and experts, FairPlane gives you the best chance of success when it comes to your airline compensation claim. They are able to do this thanks to their ability to compile data of flight plans, weather data and other necessary things to help with your claim. They claim a near perfect claim success guarantee which aligns with the overwhelming positive response.
Their website is user friendly and spells everything out in easy to understand terms. It tells you how much you are paying, how long it takes and any caveats you need to take not of. While this branch is only located in the United Kingdom, the FairPlane company covers many European airlines and countries.
FairPlane UK also stays with the client every single step of the way, making sure they are informed of their claim status, as well as making the process easier in every way. They contact the airline directly and work with them and the law to get the best result possible. They have only been in the game a few years, but they have proved that they have the know-how, the resources and the support of others to help clients get the compensation for the delayed flight and cancellation they are owed. It may take a little while to get your claim settled, but they will whatever necessary to get it to you, and you will only be charged if you claim is successful.
Claim your compensation with FairPlane here
or Read our full FairPlane review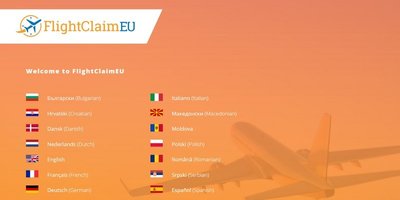 Ranks #9 out of 24 flight compensation companies
Since FlightClaimEU is a part of CCN Aviation, they have access to resources that other flight compensation companies may not. They have their own supply of legal counsel and lawyers who can help you receive any compensation you may be owed due to a delayed or cancelled flight. Through their claims process they make sure to be thorough and provide any necessary information that may help you receive compensation. To keep your information safe and secure, all dealings with FlightClaimEU is strictly done under this banner and will only be used for resolving your claim.
Not only do they deal with delayed and canceled flight claims, but FlightClaimEU also has a baggage claim service and a tax claim service. Through these you can earn extra compensation by declaring any baggage or luggage lost during a flight as well as using unused tickets due to a delayed or cancelled flight for a tax break.
The claims resolution time for FlightClaimEU is a little faster than other places which gets you any possible compensation faster, and they will only charge you if win any money. That being said, they do not guarantee that you will receive any compensation, but due to their positive reviews of handling claims, it is likely that if you are owed, you will get it.
Their website is easy to use and provides answers to any questions you may have, including how to file a claim and the steps it takes to process it. They also provide extra information to all their services. FlightClaimEU differentiates itself thanks to the extra services and extra steps they take to provide you with any compensation you may be owed.
Claim your compensation with FlightClaimEU here
or Read our full FlightClaimEU review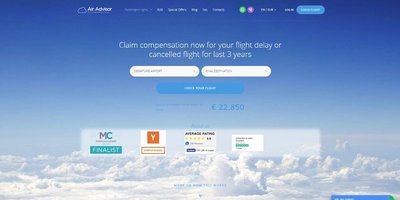 Ranks #10 out of 24 flight compensation companies
AirAdvisor is a standard airline compensation provider. They've helped over a thousand clients receive compensation for issues in flight delays and cancellations. Their website is easy to navigate, and their FAQ answers seem concise and informative. Their success fee is nothing lofty but rather an industry standard 25%, taken after the case is won. With a success rate of 98%, most clients can feel assured that by choosing AirAdvisor they will almost certainly receive some amount of compensation. Since compensation ranges EUR 200-400, potential clients can calculate quite quickly how much AirAdvisor will compensate them. Although wait times for compensation can seem lengthy, being between roughly 2 months to a year, this is largely due to the laws around when compensation must be dulled out by airlines, and less to do with the AirAdvisor team. While it would be nice for AirAdvisor to expand their scope of customers to include more EU languages, the five they offer is still inclusive compared to other airline compensation companies. Overall, choosing AirAdvisor would be a wise choice for anyone looking for an average sized payout at very little risk of losing their case.
Claim your compensation with AirAdvisor here
or Read our full AirAdvisor review
Other countries
About an Author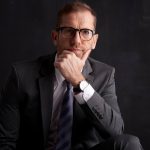 Scott Welsch is a London based attorney. He specializes in travel law and he wants to educate people on their rights as European travelers. Many flight compensation companies try to entice their customers with promises of speedy service, success rates, money they have successfully returned. To the untrained eye and the frazzled traveler sitting on the floor of an airport, these look like the best options. Our primary mission here is to keep the comparison list up to date allowing you to work with the exceptional companies only that live up to their shiny promises.