Myflyright.com is a flight compensation claims company that assists customers seeking compensation for issues with cancelled and delayed flights, denied boarding, delayed and lost luggage, and package tour cancellations. They are well versed in EU Flight Compensation Regulation 261/2004 and ready to advocate on your behalf to get financial compensation.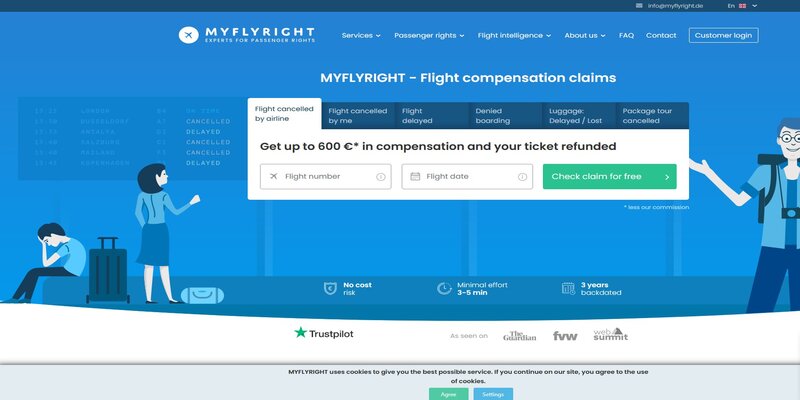 Myflyright.com's vision is to be the one-stop-shop for all aviation passengers to face irregularities in their flights, and they do this by offering a team of qualified legal experts who are on all to answer all questions and claims. They have faced delays themselves and want to help ease the burden for others.
Myflyright.com overview
| OVERALL RANK: | #14 out of 34 |
| --- | --- |
| OUR RATING: | 3.5/5 |
| USABILITY: | Easy to use |
| AVERAGE COMPENSATION: | 305€ |
| SERVICE COST: | 30% |
| AVERAGE COMPENSATION TIME: | 8-16 weeks |
| LANGUAGES: | 3 |
| REVIEWS: | 4.7 stars out of 5 on TrustPilot |
| OFFICIAL WEBSITE: | Myflyright.com |
Our Myflyright.com review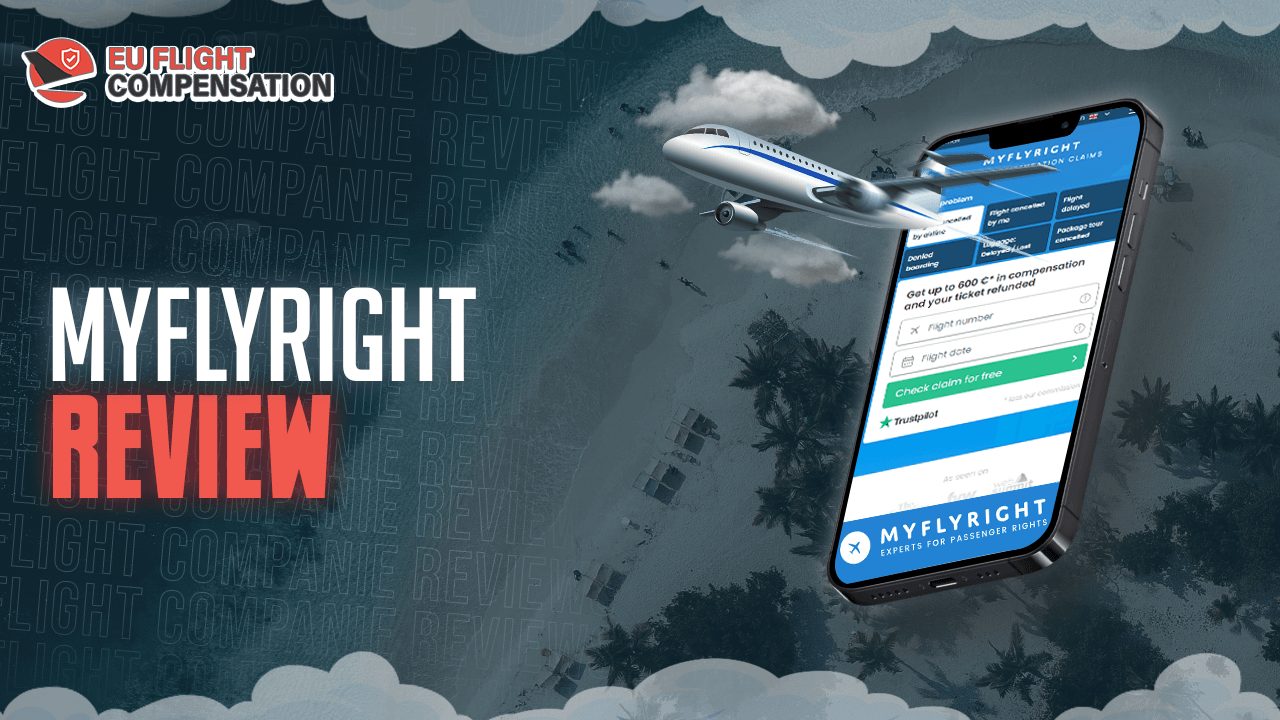 Since 2016, Myflyright.com has been working to advocate on our behalf, helping many customers get compensation when their flights are cancelled or delayed. They also help those denied boarding, lost or damaged luggage, and who had group trips cancelled. If you have an issue with a flight, chances are they can help you navigate to get a fair and just settlement.
Their claim process is simple and takes just a few minutes to complete. Enter your personal information and flight information, and check your claim for free. If your claim is accepted, Myflyright.com will verify the claim status and start work to advocate on your behalf. If needed, they can be dogged, pursuing your claim through the court system. If you win, Myflyright.com charges a variable 25 to 35 percent commission fee plus VAT within 24 hours of the settlement. You do not have to pay if they lose.
Most claims are settled within 4 to 10 weeks, though it varies case-by-case. Myflyright.com covers all legal expenses, shouldering the majority of the burden as they advocate on your behalf.
Other things to know about Myflyright.com
Myflyright.com offers English, German, and Romanian services to help customers throughout the EU get the compensation they are owed.
Myflyright.com has been featured in various media outlets, including The Guardian, FVW, and Web Summit.
Myflyright.com boasts a 98 percent success rate, especially when they have to take the cases to trial.
Myflyright.com has worked with more than 25,000 customers worldwide with overall compensation exceeding 8 million €.
Myflyright.com has an outstanding customer rating on TrustPilot, with nearly 2,400 positive reviews and a 4.7-star rating.
They have a 98% success rate, getting customers compensation for issues concerning delayed and cancelled flights, denied boarding, luggage issues, and more.

They have a great track record, helping more than 25,000 customers in the six years they've been in business. Myflyright.com even has a 4.7-star rating on Trustpilot for their outstanding service.
They offer variable commissions based on the details of your case. Some only charge a 25 percent commission, which is industry standard, while others charge a 35 percent commission.

You have to pay VAT on top of your commission.
Myflyright.com flight compensation
Mid ranged flights
Flights from 1500 km to 3500 km
Long flights
Flights more than 3500 km
Myflyright.com fee
Myflyright.com FAQ
What is Myflyright.com?
Scott Welsch
2022-05-17T03:09:04+01:00
Myflyright.com is a flight compensation company that helps customers impacted by EU flight delays and cancellations, denied boarding, and delayed or lost luggage.