Based in Switzerland, GIVT works with you to help alleviate the complications that happen when filing claims for flight disruptions with larger airlines. Their mission involves negotiating with these airlines to give passengers a fighting chance at receiving any possible compensation for any delayed flights, cancelled flights, or any trouble one may have had boarding a flight.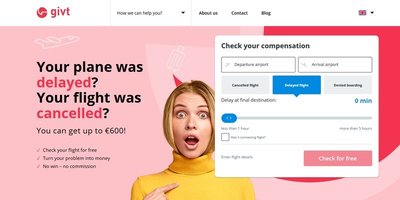 They have experienced people from different fields, including aviation, finance, and technology experts, to help with the claims processing.
Givt.com overview
| OVERALL RANK: | #29 out of 34 |
| --- | --- |
| OUR RATING: | 2.5/5 |
| USABILITY: | Confusing |
| AVERAGE COMPENSATION: | 320€ |
| SERVICE COST: | 29% |
| AVERAGE COMPENSATION TIME: | 8-14 weeks |
| LANGUAGES: | 9 |
| REVIEWS: | 0% are five star "Excellent" reviews |
| OFFICIAL WEBSITE: | Givt.com |
Our Givt.com review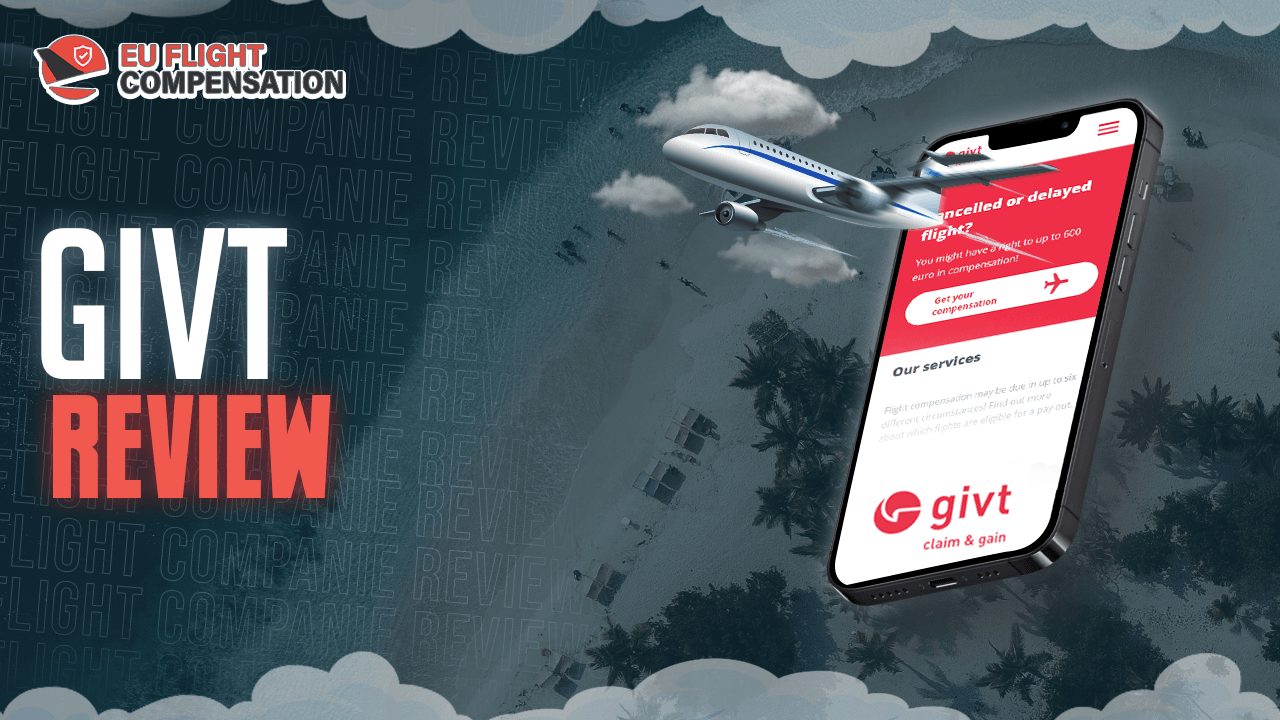 Just by looking at GIVT you would think that they know what they are doing. This is because their website and business model have been created by working professionals in different fields of aviation, technology, law, and finance. This allows them to cover all aspects of aviation compensation, including delayed flights, even during the holidays, as well as missed connections, being denied boarding, or any other flight problems that could arise. Through their company, your claim can grant you up to €600, and that covers all flights to and from countries located in the European Union.
Their website is colorful and uses graphics to help navigate and obtain the information you need. They include a section for each problem that could arise from airline travel. With support in 8 different languages, they are also accessible to many more people than other companies.
While they do keep a blog which helps people keep their user base informed and up to date, their social media presence is minor. The Facebook link is either broken or does not work. There is also little information to find regarding user reviews of GIVT. That being said, they do have testimonials on their front page, which shows that they have had success in their claims disputes. Also, according to these testimonials, they received their compensation payout in about 30 days, which is shorter than most companies.
Unlike other flight compensation companies, GIVT has a legal fee if your claim goes to court and is successful. This is on top of their 29% compensation fee, which makes GIVT more expensive than its competition. However, they make up for this by providing any and all information you need and being honest about how they handle their business. They are able to keep you updated on your claim progress and are proud of their ability to provide the client with the best chance of winning a claim. With few verified reviews or testimonials, and a higher price tag, this may be a good company for some, but not for everyone.
Other things to know about Givt.com
Based in Switzerland.
Website supports 8 different languages including Romanian and Portuguese.
Has won compensation from major European airlines including Lufthansa, EasyJet and British Airways.
Compensation fee is 29% which includes the Value Added Tax (VAT) and could increase by 20% more if legal proceedings happen.
GIVT can be contacted via email or phone.

Deals with many major European airlines.

Deals with extra flight problems other than delayed or canceled flight.
Customers have claimed that it took longer than advertised to receive their compensation.

Charges an extra 20% for legal fees if legal proceedings are required.
Givt.com flight compensation
Mid ranged flights
Flights from 1500 km to 3500 km
Long flights
Flights more than 3500 km
Givt.com fee
Givt.com FAQ
What does the compensation claim process look like?
Scott Welsch
2020-01-09T02:05:24+00:00
The compensation claim process begins by filing a claim on the givt.com website. Once the claim is verified, the customer is asked to provide relevant documentation that will allow GIVT represent them to the airline. This includes certain travel documents and an agreement with GIVT. The complaint is sent to the airline only upon receipt and acceptance of the above documents. If after the individual evaluation, and conclusion of complaint proceedings against the airline there is a need to take legal action, the customer will be asked to provide a power of attorney that allows us to represent them before the relevant legal body. Reaching a decision can take up to 16 months, but GIVT makes every effort to ensure that the claim is processed as quickly as possible.