CompensAir is UK based company that started operating in 2016 to help air travelers know their rights when it comes to claiming any airline compensation due to a delayed or cancelled flight. They have had clients claim money from over 40 countries from hundreds of different airlines.
Excellent and speedy service is the focus of this company. They offer their clients due money from airlines in almost record time. CompensAir is ready to assist you in the process of receiving compensation from the airline as soon as you're back from the airport. While every flight compensation company is different, CompensAir takes the best features of the industry's leading companies and makes them each their own.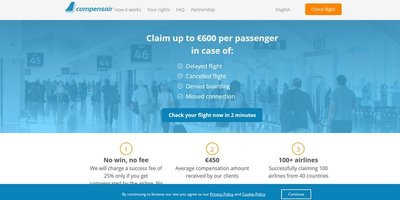 We've put together a thorough review of CompensAir and the process they enact to help you see for yourself what they have to offer.
Compensair.com overview
| OVERALL RANK: | #19 out of 34 |
| --- | --- |
| OUR RATING: | 3.5/5 |
| USABILITY: | Easy to use |
| AVERAGE COMPENSATION: | 310€ |
| SERVICE COST: | 30% |
| AVERAGE COMPENSATION TIME: | 10-16 weeks |
| LOCATIONS: | 14 |
| REVIEWS: | 86 % are five star "Excellent" reviews |
| OFFICIAL WEBSITE: | Compensair.com |
Our Compensair.com review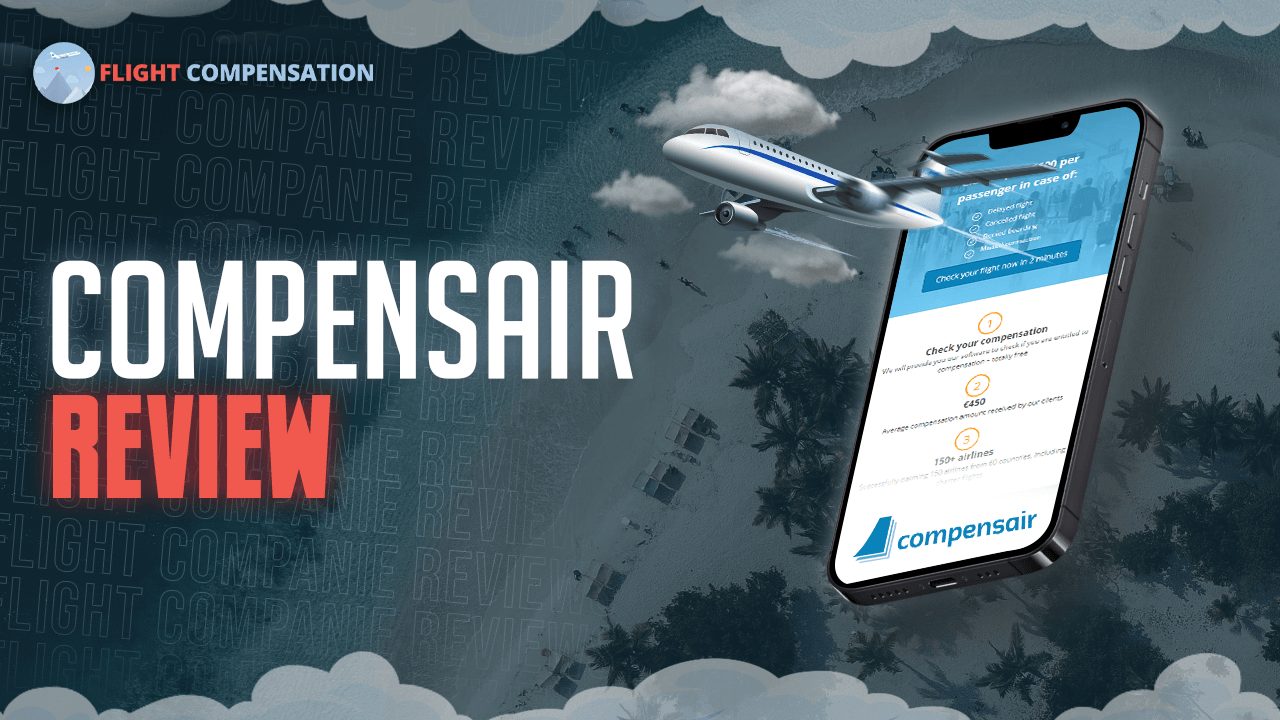 CompensAir has dealt with 40 countries and hundreds of different airlines, allowing it to have experience in getting a customer's claim. This is also effective as they cover every country in the European Union and a few outside it. Despite only having limited means of communication, CompensAir is able to assist in five different languages and do respond quickly through the appropriate channels.
They are transparent about how they operate, which provides peace of mind to anyone wishing to use them. Their website is simple and laid out in a way that explains who they are, how they work and what it takes to get you compensation for your delayed or cancelled flight.
The customer reviews are overwhelmingly positive, citing how easy CompensAir's service was to use. CompensAir's Facebook is also buzzing with activity and positive reviews, showing a dedicated client base. While there may be a couple of small wrinkles, CompensAir is a reliable company to claim any compensation you may be owed for your flight.
While it may take a little while to get your EU Flight compensation, depending on the circumstances, CompensAir seems dedicated to giving you everything you may be owed, while making it easier on you without having to go through the airline itself. This includes paying for all possible court proceedings and only charging you if your claim is successful.
Other things to know about Compensair.com
Established in 2016.
Operates out of United Kingdom and covers any country in the European Union.
Compensation charge is 30% of the compensation amount, with the Value Added Tax included. You are only charged if awarded money.
Customer reviews average out to about 4.8/5.
The length it takes to get compensation varies on whether or not court proceedings are involved. The average is 12 weeks.
Application process takes about 2 minutes.
Average compensation amount is 310€.
Supported languages are English, Russian, Turkish, Ukrainian and Spanish.
Can claim up to €600 and only charges if your claim is successful.

Application takes only 2 minutes to fill out.

Covers all possible court costs.

Can claim a flight up to 6 years.

Instant response to claims.
User support is not personalized.

CompensAir does not have a live chat system or a Facebook chat system.

No readily available method to check the status of a claim.

Claim compensation can take up to 20 weeks with court proceedings.
Compensair.com flight compensation
Mid ranged flights
Flights from 1500 km to 3500 km
Long flights
Flights more than 3500 km
Compensair.com fee
Compensair.com FAQ
My flight has been delayed. Am I eligible for compensation?
Scott Welsch
2020-01-09T01:13:47+00:00
If you reached your final destination with a delay of more than 3 hours, you are entitled to get compensation from €250 to €600. The delay should not be caused by extraordinary circumstances:
unfavorable weather conditions
strike
risk of act of terrorism
If the delay is more than 2 hours, you are entitled to additional support from the airline:
free phone calls
free refreshments
free meals
free accommodation
free transfer to accommodation