AirClaim.com is a flight compensation company that works with cancelled and delayed flights, missed connections, overbooking, and more. They employ a team of experts who are well versed in EU, Brazilian, US, and Chinese flight compensation laws. Eligible passengers are eligible to receive up to 600€, though your actual compensation varies.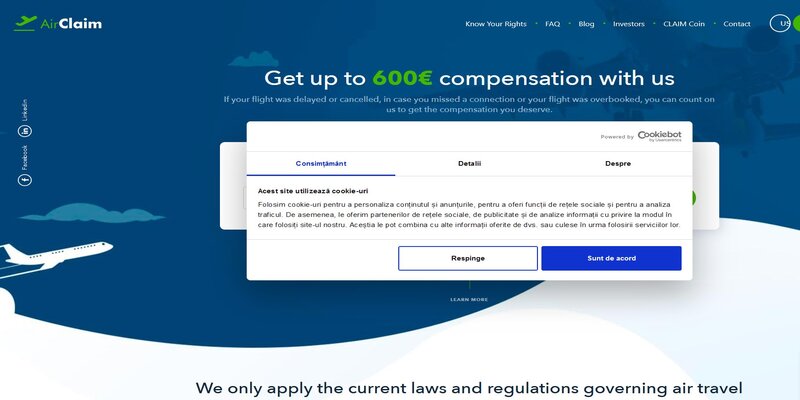 With services available in English, Hungarian, Polish, and Romanian, it's worth checking out AirClaim.com to get the customized support you need to get the money you're entitled to following flight disruptions that are out of your control.
AirClaim.com overview
| OVERALL RANK: | #13 out of 34 |
| --- | --- |
| OUR RATING: | 3.5/5 |
| USABILITY: | Easy to use |
| AVERAGE COMPENSATION: | 315€ |
| SERVICE COST: | 29% |
| AVERAGE COMPENSATION TIME: | 8-16 weeks |
| LANGUAGES: | 4 |
| REVIEWS: | 2.6 stars out of 5 on TrustPilot |
| OFFICIAL WEBSITE: | AirClaim.com |
Our AirClaim.com review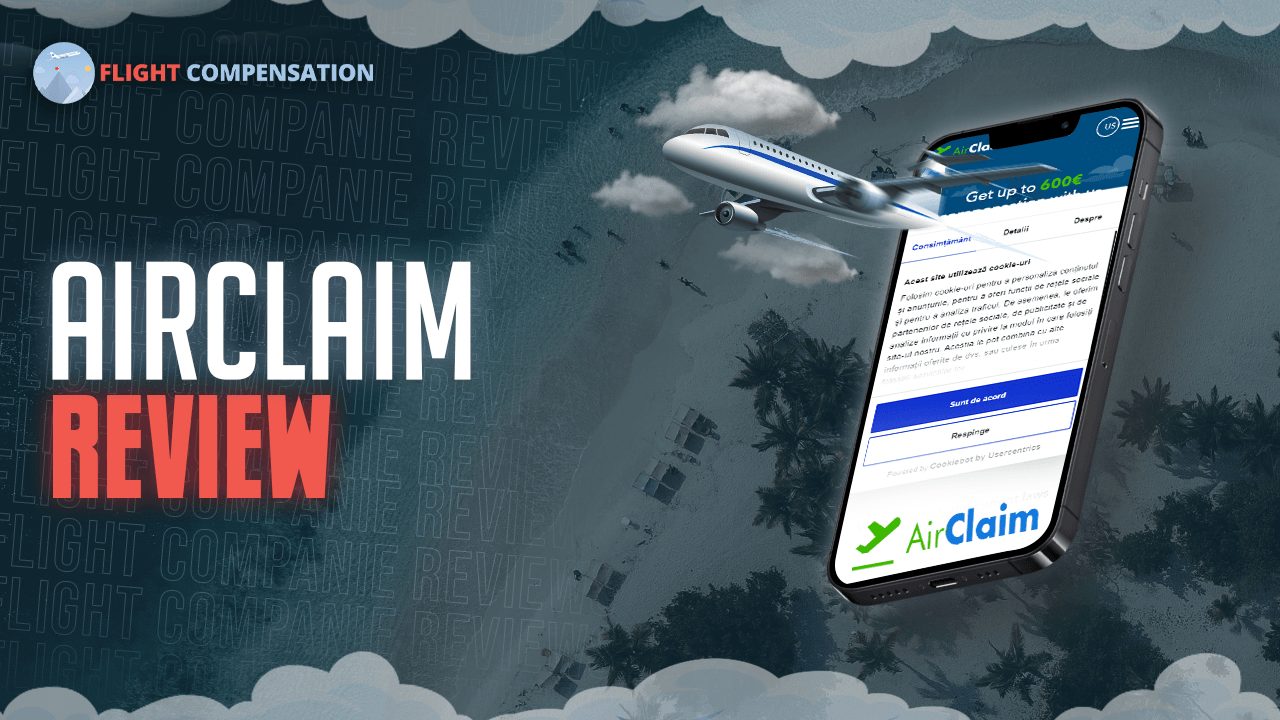 AirClaim.com makes it easy to check if you are entitled to flight compensation. Simply fill out their form with your personal and flight information, uploading additional documentation as requested. It's free of charge, and if your claim is accepted, AirClaim.com will work hard to advocate on your behalf.
They aren't transparent about how long the average compensation time is, and if you are paid out by the airline, they charge a service fee. You will pay a 29 percent commission with an additional VAT charge. AirClaim.com will work hard to get your compensation as quickly as possible because they don't get paid unless you get paid. If you do not win, they do not charge you, so it's in their best interest to pay you out.
AirClaim.com has a frequently asked question page to address common customer service needs. Partnering with AirClaim.com is fast and easy. Their three-step process is intended to make it easy for you to set it and forget it, relaxing as they do all the hard work. AirClaim.com does not list any customer reviews, so it's difficult to know how they perform with real clients.
Other things to know about AirClaim.com
AirClaim.com offers services in English, Hungarian, Polish and Romanian languages, helping meet customers where they are. They are also trained in EU, US, Chinese, and Brazilian flight law to best advocate for your cases.
AirClaim.com boasts over a 90 percent success rate in getting compensation from their airline.
AirClaim.com charges a 29 percent commission plus VAT if they win. You pay nothing if they lose.
Contact AirClaim.com's customer service via email for 24/7 support. You can also fill out a form on their website directly.
AirClaim.com is well versed in EC261/2004, US DOT, Shy Passenger, and Brazilian regulation, which helps them serve clients from across the world.

They offer services in four different languages to increase accessibility throughout the European Union.

Their claim process is easy to use.
AirClaim.com charges a 29 percent service fee, which is slightly higher than the industry standard of 25 percent. There is an additional VAT charged on all transactions.

AirClaim.com is less transparent than other sites. You have to dig to find the service fee and additional important information.
AirClaim.com flight compensation
Mid ranged flights
Flights from 1500 km to 3500 km
Long flights
Flights more than 3500 km
AirClaim.com fee
AirClaim.com FAQ
What is AirClaim.com?
Scott Welsch
2022-05-17T04:45:25+01:00
AirClaim.com is a flight compensation company that helps with all EU flight compensation law violations. They help you get up to 600€ based on your case.